Everyone has their own unique way of pronouncing things.  Depending on where you grew up, where you live, where you're from, how you learned, the English language is quite diverse.  Or at least that's how it seems. 
Growing up in the Pacific Northwest, we referred to things like Pepsi, Coke, Root Beer, etc. as pop – when I moved to Pennsylvania, I got many strange looks and eventually crossed over to calling it soda.  Should be interesting when we move out West again to see if I cross back over to pop.
Whenever Princess Nagger pretends she's someone else, she adopts an accent – primarily an English or British accent, sometimes it'll be Australian or Scottish.  I love accents. I melt when I hear the true accents of people like Kevin McKidd speak 'normally', with his Scottish brogue, or any of the awesome hotties who are Australian. MmmmHmmm.  Be still my heart.
For some reason Princess Nagger always calls pajamas 220;pajawmas" – or would that be "pajahmas"?  You get the idea – it's not "jam", but "jaaahm".  I'm pretty sure it's because that's how she's heard it when she's watched cartoons or kid shows where the leading character has an accent – even though the only other time she adopts the accent is when she's pretending to be someone else. 
Except when she refers to pajamas.  It's pajahmas all the time.  Apparently she's now rubbing off on me, as I'm finding myself calling them "pajahmas" now, too.  All. The. Time.
Which brings me to this week's question(s):

Did/do your kids adopt an accent when they're pretending to be someone else?  How do you pronounce pajamas?
Have a great weekend!
.
Link up if you like – that way I can visit you easily, especially if you're a new follower (just please oh please leave a comment when you do!). You can be participating in any (or none) of the hops listed below – it's a Free-For-All!

Mister Linky's Magical Widgets — Auto-Linky widget will appear right here!
This preview will disappear when the widget is displayed on your site.
For best results, use
HTML
mode to edit this section of the post.
.
Happy Aloha Friday!
.
In Hawaii, Aloha Friday is the day that we take it easy and look forward to the weekend. So on Fridays let's take it easy on posting, too. Ask a simple question…nothing that requires a lengthy response. It's a great way to make new blogging friends!
Follow Friday 40 and Over
.
There are a lot of fabulous bloggers who are 40, so I'm participating in Follow Friday 40 and Over – please be sure to leave a link to your blog so I can come check out your site and follow you, too!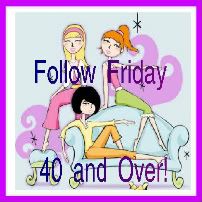 More Friday Follow Fun
.