It was a Dark and Stormy Night…  Wait, no it wasn't.  That's a different story entirely.
Yesterday marked the 1-year anniversary of my Father-in-Law's passing.  It's hard to believe it's already been a whole year.  The hubby was quieter-than-normal yesterday, since it was his final parent and he was an only child, the passing of his father hit him harder than most.   At least having the Princess Nagger and I (and my crazy extended family) has helped him not feel as lost and lonely as he might have.
Where am I going with this?  Glad you asked.  See this clock?
This Seth Thomas antiquity belonged to my Father-in-Law.  He loved clocks, and we brought home half a dozen of his favorites when we cleaned out his apartment last year.  This particular clock didn't seem to be working.  At all.  I wound it up (and made sure not to wind it too tight – we all know how things and people are if they're wound too tight) but no matter what coaxing I did, the clock refused to tick.
Until Father's Day.
The clock had been sitting silently on the same end table (well, OK, not an actual end table, but a bar stool posing as an end table) for months, refusing to tick or chime.  I figured it was just a unique thing to look at, without actual functionality.
Until it suddenly started ticking.  And chiming. 
On Father's Day.
I told my hubby it must have been his dad's spirit, because my hubby was exceptionally sad that particular day, being the first Father's Day he wasn't able to banter with his dad on the phone celebrating their mutual fatherhood.  It was his dad's way of trying to cheer him up – or creep him out, whichever worked.  And it did. 
It has worked ever since without fail, albeit it does run behind.  His dad did joke about wanting to slow down time.  Maybe he figured it would be the perfect way to do so.
Which brings me to this weeks question(s):

Do you believe in ghosts?  Either way, have you ever felt like you've gotten a message – big or small – from loved ones who have crossed over?
Have a great weekend!
This haunting Spin Cycle was brought to you part by Jen, the inimitable Sprite's Keeper, who might or might not have a few ghost stories of her own to share.  Check out the other Spinners – see what's haunting them!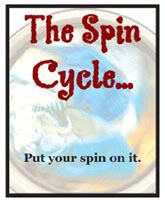 .
I'm multiple-dipping as you can see – link up if you like – that way I can visit you easily, especially if you're a new follower. You can be participating in any (or none) of the hops listed below – it's a Free-For-All! (Just please oh please leave a comment when you do!) I'm also a little behind on following everyone that has followed me the last week or so – a gentle reminder is always a good thing, and I'll definitely be doing some major catch-up when my head is less foggy than it currently is.

Mister Linky's Magical Widgets — Auto-Linky widget will appear right here!
This preview will disappear when the widget is displayed on your site.
For best results, use HTML mode to edit this section of the post.
.
Happy Aloha Friday!
.
In Hawaii, Aloha Friday is the day that we take it easy and look forward to the weekend. So on Fridays let's take it easy on posting, too. Ask a

simple

question…nothing that requires a lengthy response. It's a great way to make new blogging friends!
Follow Friday 40 and Over
.
Follow Friday 40 and Over is Back! There are a lot of fabulous bloggers who are 40, so I'm participating in Follow Friday 40 and Over – please be sure to leave a link to your blog so I can come check out your site and follow you, too!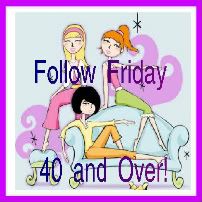 More Friday Follow Fun
.
.
.