Hope you all had a great 4th of July!  We had a mellow laid-back one here in Iowa.  We're on the downhill slide of our 2+ week vacation – only four more days before we hit the road to head home.  Seems sort of bittersweet, but I'm sure the dogs and cats will be happy to see us come home – you know, if they actually remember us (according to the hubby).  So while I still have limited internet access (and by limited, I mean sporadic hit-and-run moments which seem few and far between), I'm looking forward to getting home and having things back to 'normal'.
Speaking of 'back to normal', we're still hanging in there while Keely is still on hiatus – wonder if she's giving up the randomness altogether?  I sure hope not, she was queen of random, and it would be awesome if she would return to her queendom.  Meanwhile, we're still holding down the fort and rebelling with the randomness in spite of her absence – feel free to join the rebellion!
(Note: Right-click still isn't working on my page, so after you highlight the code, simply CTRL-C to copy, CTRL-V to paste. Email me if you're having trouble)
We haven't yet made a return trip to the Amana Colonies so we can get more fudge and so I can hopefully take a picture of the Sandwich Nazi – but we're planning on doing that again in the next day or so.  Maybe closer to the end of the week so we'll actually have fudge to bring home with us outside our happy tummies.
Last Tuesday we got to enjoy the Shakespeare Festival at the Riverside Theatre, the cast was amazing performing "Two Gentlemen from Verona".  We talked my dad into getting some 'culture' by attending, and even he enjoyed himself tremendously.  The theatre is really quaint, as you can see here:
This is how the stage looked from our seats:

Not bad, eh?  My sister and her hubby took us last year, it's apparently something they do every year so now it's our favorite thing to do when we visit them.  Unfortunately you're not allowed to take pictures during the performance, but I found these on the internet of the same play we saw to give you an idea how detail oriented they are:
Princess Nagger loved the play, too – especially the costumes, and her favorite character was this guy:
His name is Patrick DuLaney, and it's his fourth year at the Riverside Theatre – he is the best comic relief for both of the plays we've seen so far, including the one last Tuesday night.  He had to ad-lib a couple of times when the dog stole the scenes, but he did an amazing job.  I couldn't find a picture of the dude who played several parts, along with flashing the signs and announcing where the next scene was taking place – he, too, was hysterically funny.  The whole play was a treat, and we look forward to returning to see more in the future.  If you're ever in Iowa City and happen to love plays, you really do need to check them out!
We did make it to the Farmer's Market in Cedar Rapids on Saturday, but holy moly there were so many people there it was sheer craziness – we ended up losing my sister and her hubby and my parents in the crowd, so hubby and Princess Nagger and I moved over to the sidewalks behind all the booths so we could walk faster and make a beeline to specific booths that caught our eye rather than get crushed (or annoyed) in the crowd.
I brought my camera with me, but there were so many people crushing from booth to booth, I didn't get the artistic shots I had envisioned getting.  I snagged this photo off their website to give you an idea of how crowded it is (and actually, this shows less than what was there on Saturday):
There was something like 200 vendors set up over several streets in downtown.  At least I was able to get some quick shots of Princess Nagger – she really liked hanging out at one of the booths of homemade honey, since they had an observation hive there:
The booths that caught my eye besides the crafty ones were the amateur winemaker ones, of course.  I felt sorry for the guys at one of the booths – the guy in front of me pretty much asked to taste every single type of wine they had available for tasting – then asked the guys (in a rude manner) if they were sure he tasted every one.  When they assured them he had – and asked if he was interested in purchasing any, he said 'maybe later'.  Yeah, right.  He was just there for the free buzz.
I visited four booths, but only tasted about 5 different wines – I told hubby I was doing research on what other amateur winemakers wine tasted like, to see if my wine stacks up.   Conclusion:  it does.  Definitely.   I may be a little biased, but some that I tried really didn't taste like award-winning wine, in spite of the labels claiming to be just that.  Not even the bronze medal one seemed deserving.  But some of the wines I tried at other booths were not only yummy, but inspiring – and funny – like this one:
Isn't that hilarious?  Penitentiary wine – at first I thought it might be a version of the prison wine you hear about guys that ferment grape juice in their cells, you know, like their own version of Mad Dog 20/20.  But I was pleasantly surprised that it was really an excellent tasting wine – not to mention the cute dressed bottle factor of the handcuffs on the neck of the bottle:
Can't wait to open up this bad boy and drink it up!  Apparently it was made/named in honor of some historical penitentiary in a nearby town – might have to actually go check it out.   I'll keep you posted on that – and the wine itself.
I better stop there before I overload you on our vacation antics – I'll save some for later.  We'll be cramming as much touristy things as we can between now and when we leave for home on Saturday, so I'm sure I'll have some excellent blog fodder to share later.  Meanwhile, feel free to link up and join in the Random Tuesday Thoughts Rebellion – everyone is welcome!  Don't forget to visit your fellow rebelers so they won't feel lonely with their random thoughts. I'll be by when I can – but definitely back to 'normal' next week!

P.S. If you haven't checked it out already, don't forget to see Princess Nagger's video on her 'year later' Sugar Free Ring Pops input – it's hilarious! Click here to see it, or check out yesterday's earlier post…you'll be glad you did!
.
I'm also participating in Follow Me Back Tuesday – if you are a new Follower, please be sure to leave a link so I can follow you back!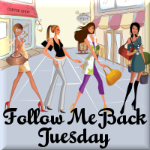 .
Once again I'm hopping aboard this fun friendly train – if you're traveling on the train, be sure to leave your link so I can follow you back!
I'm also joining Hop a Little Tuesday – Blog Hop for Moms: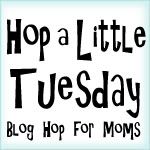 And here's another fun one, Tiggerific Tuesday! Blog Hop…or Bounce!