I love to cook.  Except when it's hotter than the hinges of you-know-what like it's been since about May.  Only because our kitchen happens to be on the side of the house that catches the entire bout of the afternoon sun – and heat.  And my kitchen needs a serious remodel, something we've been thinking and talking about since we moved in 8 years ago, since there's not a lot of counter-top space (oh what I'd give for a large enough kitchen for an island).  See?
Those pictures are from 5 years ago after we brightened it up with fresh/new paint and borders, and remove the ugly striped wallpaper that graced the fronts of the cupboard doors – since then I spent a day ripping up the linoleum with a crowbar and hammer (since it was glued down to particle board, which in turn was nailed down to the original wood floors.  Luckily the original wood floors were in great shape, and the nails, though plentiful, were small ones). One of these days I'll get around to taking a sledgehammer to the drop ceiling to bring it back to its original lofty heights, as well as taking out the faux stone face above the cupboards to install taller cabinets for more/better storage, and replace that gawdawful mustard yellow counter top.  Eventually.
But I digress.  I was telling you a story about my great-grandmother.  She left her twin behind in Sweden to come over to the Land of the Free at the tender age of 16 (then moved to Canada [which hubby and I joke about moving to in order to get away from this heat…heh] then moved back to the States) and she was an amazing cook.  As I was growing up, every time we'd visit her, my dad would tell her not to go to any trouble fixing a meal for us, but she would. Every time.  Always some big giant Smörgåsbord – Swedish style, of course.
In her kitchen sat a little red stool, and upon that stool sat me, riveted to the magic she was creating in her tiny kitchen.  Watching her every move, asking scores of questions she happily answered without missing a beat on whatever she was preparing.  She rarely used measuring cups, as she always explained that to cook something wonderful, you must cook it from the heart – and to taste.  Like a little sponge I absorbed what she taught me and tucked it away for future reference.  After I moved out of my parent's house and into my own apartment, I loved to experiment with different recipes, only using the recipe as a guideline and not as a bible.  I loved to invite my family and friends over for dinner, and they were always willing guinea pigs for any experimentation I decided to try.
Over the years, any time I'm making something I fondly remember those early years in my great-grandmother's homey kitchen.  I'm glad I retained a lot of what she taught me, and love that she always included me as her little helper.  I credit her for instilling the passion I have for cooking, even though I don't get to embellish that passion as often as I'd like.  Princess Nagger loves to help in the kitchen, too – and she's turning out to be a great little apprentice.  Hopefully she'll have some fond memories – and enjoy cooking – like I do.
One of my experimentation's from recent years (which I posted last year, but it's worthy enough for a revisit) are my specialty BBQ Ribs and Corn on the Cob on the Grill.  For those that don't eat meat, at least you can utilize the corn on the cob part to enjoy:


BBQ Ribs and Corn on the Cob
On the Grill

What you'll need:
Rack of ribs (beef or pork – I used pork ribs for this cookout)
Dry Rub Ingredients (see below)
Fresh ears of corn
Dry Rub Ingredients:
2 Tablespoons
paprika
1/2 to 1 Tablespoon
salt
1/2 to 1 Tablespoon
onion powder
1/2 to 1 Tablespoon
fresh ground black pepper
2 teaspoons
cayenne
optional:
1 teaspoon
curry powder
1 teaspoon
seasoning salt
1 teaspoon
cinnamon
1/2 teaspoon
cardamom
Directions:
Mix ingredients together. Rub generously on ribs that have been rinsed and patted dry, then let sit until the rub appears moist.
Notice how I have the 'optional' ingredients? It all started because I couldn't find the cayenne, so I decided to improvise a little. After I added the extra ingredients, I found the cayenne (hubby had used it and didn't put it back in the spice cupboard in alphabetical order. I know.) But you know what? It turned out absolutely delicious! So you can 'accidentally on purpose' do the same thing. You'll love it.
The dry rub ingredients – simplicity at it's best:
This is what I added extra:
My Swedish great-grandmother always added cinnamon to practically everything she cooked – hence the addition of that. Trust me, it works.
I bought a ginormous rack of ribs and divided it in half, wrapping and freezing one half to have at a later time, and rinsing off the remaining half and patted it dry with paper towels:
Rubbed on the dry rub and cut the ribs into 3 sections (one for each of us):
Wrap each section in foil (and be sure not to accidentally poke holes in it while you do, or you'll have a huge mess in your oven). Bake at 300-degrees for 2-1/2 hours.
While the ribs are slowly cooking in the oven (just wait, we'll get to the grill part of it later), you can prep the corn on the cob for its journey to the grill, too. Carefully peel back the husks without actually removing them – you can remove the outer most husks if you want, just be sure to leave enough to re-husk the corn (which Princess Nagger thought was hysterical). Remove all the silk and wash the corn. I cut the tip off the very end at this point too, so I wouldn't have to do that later. Close the husks back over the corn and set in a large bowl of cold water:
Since they have the tendency to float, putting a plate over them does the trick of keeping them fully submerged:
Why soak the corn? I'm glad you asked. Soaking them like that absorbs water into the husks, which will act as a great way to 'steam' them when they're cooking on the grill, resulting in succulent moist corn! Leave them soaking for about an hour, then drain them on paper towels:
Pull back the husks and slather them with butter:
We like lots of butter on our corn, and you don't have to be skimpy on this step, because a lot of it will run off the cob when it melts. You can also melt butter and brush it on, but this way was much quicker and easier. I'm all about quick and easy. You can season them at this time, add some salt or pepper or anything you like on your corn. I added fresh ground pepper to hubby's ear because that's how he likes it, but waited until after they were cooked before sprinkling a little fresh ground sea salt on mine and Princess Nagger's.
Pull the husks back over the ear of corn to cover it back up, then you can either use a husk strand to tie the end and grill them just in the husk, or wrap in foil:
You'll want to cook them on your grill in indirect heat – we have an upper half-rack on our grill that worked perfect. Cook them for about 15-20 minutes turning every 5-10 minutes or so.
When the ribs have finished their pre-cook mode in the oven (and filled the house with a delicious scent making you ravenously hungry), remove them from the oven and let them 'rest' for about 10 minutes. Unwrap from the foil and they're ready for the grill:
They're actually ready to eat now, but we want that finishing touch with barbecue sauce and grill flamage. After the corn has been cooking for about 10 minutes, it's time to add the ribs:
You want to cook them in indirect heat, so for these we only lit the two side burners and left the middle burner off so we could put the ribs right in the middle. Grill the ribs for 3 to 4 minutes on each side. Brush sauce on the ribs while they're grilling, and just before you serve them (adding it too early will burn it).
The ribs were literally falling off the bone when I took them out of the oven, so next time I may keep them in one big rib formation for the grill instead of splitting it up like I did. But at least I didn't have to cut it up and burn my fingers in the process after they were done.
So there you have it – the ribs and corn both turned out absolutely amazing, and the rub really did add a lot to the flavor and tenderness of the ribs overall. As far as barbecue sauce goes, you can use any kind you want – I have a homemade recipe I usually use, but I was out of a couple of the ingredients so I opted to go (quick and easy again) with a bottled barbecue sauce instead.
Pre-cooking in the oven is highly recommended if you have a gas grill like we do, since those grills usually cook fast and hot. That way you can be sure your ribs don't dry out, get over cooked, or don't get cooked enough.
What are your favorite things to cook?
.
.
.

.

Here's a printable version of the recipes and directions:
This foodelicious Spin Cycle is brought to you in part by Jen, who has her own little kitchen apprentice as Sprite's Keeper and has successfully managed to impress with some of her own culinary skills in the kitchen.  Stop by and check out the other Spinners – this week's Foodie writing prompt is bringing out some funny posts that tickle the funny bone – as well as your palate.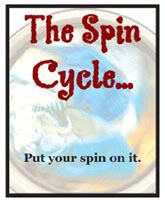 And, since it's food and it's Thursday, I'm also going to link up over at Xmas Dolly's fun recipe swap: