We're still going strong rockin' the rebel at week six.  Sheesh! Keely's hiatus is still droning on in full swing, her new job sounds like a dream job so far – complete with a skeleton mascot and International Talk Like a Pirate Day where the best costume wins a trophy.  Seriously. I'm hoping she doesn't have so much fun she decides never to be random again.  That would be sad.  Not to mention my cartoon me is getting desperate to get her wine glass back instead of hefting this sign for weeks on end.  Help my cartoon me carry the sign and join in the rebellious mode, won't you?
(Note: For some reason right-click isn't working on my page, so when you highlight the code, simply CTRL-C to copy. Email me if you're having trouble)

Apparently I have Blogger's Elbow.  That's not what it's actually called, but that's what I'm calling it.  My Ulnar Nerve is pinched from hours of resting my chin on my hand with my elbow propped on my desk whilst reading blogs.  Now my ring finger and pinky on my left hand are in a constant state varying between numbness and tingling.  Sucks to be me, I know.
Since I have an aversion to going to the doctor, I'll just pick up a fashion un-friendly elbow brace to wear for a while and see if that fixes the problem.  No way am I going to be reducing my blog reading time, but I'll have to make a conscious effort to not rest my chin on my hand – my head will just have to hold itself up on its own.  It also messes with my typing, so if I make some mistakes in posts or comments, we'll just blame it on Blogger's Elbow.  At least that's my story and I'm stickin' with it!
Only one month left of school before summer break!  Where has the time gone?  Princess Nagger has been working on a special project in her Gifted class – they were asked to pick a subject they're unfamiliar with to write a report about, create a PowerPoint Presentation, and do a recorded presentation.  Since she knows way too much about dinosaurs, she wasn't allowed to choose them as her subject matter. She opted for dragons, since she loved the How To Train Your Dragon movie, and they remind her of dinosaurs with wings.   We got to see her written report last week, she definitely makes a mama proud!  I converted the PowerPoint Presentation into a PDF file so those that don't have PowerPoint can see it here:
When I get hold of the video version of her presentation, I'll be sure to share.  You can also read the written report if you want to (it's short) here:
Over the weekend she had to work on a display-type project to go along with the original project – so it can be displayed for the Curriculum Fair which happens later this month.  It was a project she was to do all on her own, with as little assistance or input from us adults.  I helped only with the gluing and cutting – she decided to do a diorama, envisioned everything and put it all together herself:
She even put an elephant behind to show them fighting over it:
Pretty cool, no?  She's very proud of it, as she should be.  She has another diorama she's working on that is one of those that the family is to work on together – this one is an Alligator one, which is turning out fun to create.  We still have to put it together, but I came up with this:
I picked up a fake rock watering bowl, put one of the alligators in it, added some moss to make it look swampy, filled it with Acrylic Water, and sprinkled a few fake leaves to look like lily pads.  Princess Nagger is looking forward to finishing putting this one together – I'll post pictures of the completed project when it's all done.
That's it for this week – feel free to be a rebel with me and get your random on! Join in the fun – link up!
.

I'm also participating in Follow Me Back Tuesday – if you are a new Follower, please be sure to leave a link so I can follow you back!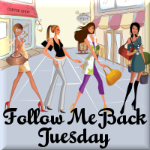 .
Once again I'm hopping aboard this fun friendly train – if you're traveling on the train, be sure to leave your link so I can follow you back!
I'm also joining Hop a Little Tuesday – Blog Hop for Moms: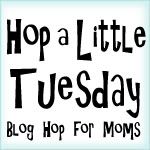 And here's another fun one, Tiggerific Tuesday! Blog Hop…or Bounce!