I want to preface this post by saying my heart goes out to those in Alabama and surrounding states that lost their homes and loved ones during the horrendous tornadoes this week.  I'll definitely be keeping y'all in my thoughts and prayers.
And now we return you to our regularly scheduled program:
Last week a giant box arrived – but it wasn't for me.  It was for Rolex. What was in it?  I'm glad you asked!
A ginormous bag of Pedigree Dry Recipe Dog Food.
Rolex was honored to be chosen as a Pedigree Dog Food Ambassador, though him taunting his brother, Travis, probably made him even happier.
I've always been picky about what kind of dog food I feed my dogs – I used to be hooked on Iams and only fed Iams to both the dogs and cats.  But when our former Wheaten Terrier developed a wheat allergy (pretty ironical, don't you think?), I had to look at other food that wouldn't cause dry skin and itchy moments for the poor puppy.  That's when I discovered that Rachael Ray had her own line of dog food – with all natural ingredients.  That did the trick and all the dogs were quite happy.
When I was contacted to see about one of our dogs being an Ambassador for Pedigree's new formula, I was intrigued.  I'm game to try anything new, and I knew Rolex, the big lug (45-pound lap-dog-wannabe), wouldn't have a problem either.
As with any new dog food, you need to 'introduce' it gradually so there are no digestive issues with what your dog is already used to – including excessive farting.  Dog farts always seem to be the worst. Unless you're talking about our cat, Link, whose nickname is appropriately "Stinky Linky".
I mixed a portion of the new food in with the old food before giving it to Rolex – I'm not kidding when I say that he ate around the old food and polished off every last morsel of the new food, leaving the old food untouched in the bowl (well, maybe a little slobbery from fishing the new food out from around it).  Kind of like how Princess Nagger eats around peas and leaves them on her plate (except the slobbery part).  He then sat and looked at me waiting for me to give him more.  I think he's been quite happy that over the course of the last week the old food has been slowly phased out, so he can have a full bowl of the new-and-improved yumminess.
I'll be monitoring any changes in his coat and skin, and any other changes that might be noticed with this cool new formula.  Check back in the coming weeks and I'll let you know what the final verdict is.  At this point, after week one, it's so far, so good!
Which brings me to this week's question(s):
If you have pets, are you picky about what kind of food you feed them?  Do you have a favorite brand?
Have a great weekend!
P.S.  To learn more about Pedigree, visit their website, follow them on Twitter and check out their Pedigree Adoption Drive on Facebook.
Link up if you like – that way I can visit you easily, especially if you're a new follower. You can be participating in any (or none) of the hops listed below – it's a Free-For-All!
.
Happy Aloha Friday!
.
In Hawaii, Aloha Friday is the day that we take it easy and look forward to the weekend. So on Fridays let's take it easy on posting, too. Ask a simple question…nothing that requires a lengthy response. It's a great way to make new blogging friends!
Follow Friday 40 and Over
.
There are a lot of fabulous bloggers who are 40, so I'm participating in Follow Friday 40 and Over – please be sure to leave a link to your blog so I can come check out your site and follow you, too!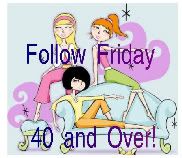 Fun Follow Friday
.
I'm also joining in on "Stalk Hop Friday" hosted by Mrs. Marine and the Tiny Troops, and Novel Bloggers! This one is a little different from the usual, instead of just following on Google Friend Connect (GFC), you can pick and choose which way you want to stalk follow blogs. Be sure to leave a link in your comment so I can follow you back!
Welcome to
"Stalk Hop Friday"!
Blog hops are a great way to gain more followers! This hop follows in EVERY way: Google Friend Connect, Facebook, Twitter, Feed, Blog Frog, Networked Blogs! "Stalk Me" and I will return the favor!
Thursday Two Questions (on Friday!)
.
Hosted by Self Segacity, It's easy to join Thursday Two Questions Meme. 1) Post your own two questions on your blog, 2) Have a link or badge on your post to Self Sagacity.com
More Friday Follow Fun!
Note:  I wrote this post while participating in an Ambassador campaign by Mom Central Consulting on behalf of Pedigree, and received a ginormous bag of dog food to facilitate my reviews. No influence was made by any outside source – except Rolex.  He seems quite pleased with his new dog food so far.