We're still rockin' the rebel at week five. Keely's hiatus is still droning on in full swing, she started her new job yesterday and Alfred got an internship, so that means they'll be on 'human' schedule vs. 'zombie' schedule.  Be sure to head over to harass congratulate her – but wait until you finish here, don't leave yet!  While you're there, though, be sure to tell her that my cartoon me is really jonesin' to give up the sign and revert back to the wine glass.  After her hiatus is over, I'm going to needs lots of wine.  Meanwhile, join in the rebellious mode, won't you?
I noticed many of you were adding the badge I created as you play rebel along with me – so sweet!  For those that were confused on where to get the badge, I made it into an actual linky badge so if you want to utilize it, knock yourself out.  And thank you.  (Note: For some reason right-click isn't working on my page, so when you highlight the code, simply CTRL-C to copy. Email me if you're having trouble)

Princess Nagger was all excited about decorating Easter eggs this past weekend – I even hard boiled a dozen eggs to make sure I didn't forget.  Want to see how pretty they turned out?
You guessed it.  We forgot to decorate eggs.  So I have one-dozen hard boiled eggs in my fridge.  Good thing Princess Nagger loves hard boiled eggs and egg salad.  That's not the worst of it – I even ordered a cool decoupage kit online that came with 6 real goose eggs to decorate.  We didn't even do those.  And, if that weren't bad enough, I blew eggs last week to have six hen eggs to add to the goose eggs for variety (don't ask me how many eggs were lost in that process).  After emptying six egg shells the hard way and feeling like I had just blown up 600 balloons, you'd think I'd remember to make time to decorate.  Major Fail.
But at least I redeemed myself by securing that HOP basket Princess Nagger wanted – she was hopping with excitement when she saw it.  She was so excited that the Easter Bunny brought her not one, but two baskets this year, since I had already bought the stuff to put an Easter basket together for her before she mentioned she was hoping for a HOP basket.  I think she's on to me, though, she inadvertently said "When you buy an Easter basket this year…I mean when the Easter Bunny brings a basket this year…"  Ahem.
At least with all the extra goodies even she forgot about decorating eggs…until about 9:30 p.m. on Sunday night.  She was trying to convince me to agree to do them then, you know, while it was still Easter.  But it was just a ploy to stall going to bed like she had effectively done already for half an hour.
You know how hubby finally joined the geekdom and bought us SmartPhones?  He's now hooked on Angry Birds.
He'll play it for hours.  We both downloaded the original version of Angry Birds, plus Angry Birds Seasons, and the newest one, Angry Birds Rio.  Princess Nagger's hooked on the Rio one, since we did see Rio in the theater over the weekend (loved it – definitely a must see if you have kids…or even if you don't – just borrow a friend's kid and go see it!)   Of course now Princess Nagger is hoping Santa will bring her a SmartPhone for Christmas.  Or an iPad.  Just so she won't have to keep begging me to borrow my new phone to play Angry Birds.  I wonder if someone will start any ABA meetings?  You know, Angry Birds Addiction.  Might be necessary.
Mother Nature is still messing with us – after starting off spring with very cold weather, now she's gone the opposite end of the spectrum with 80-90 degree heat and humidity.  The kind of stuff we tend to get in August, not April.  Maybe she has her months mixed up.  I just wish she'd get it together, I want a 'normal' spring, not dive right into the summer heat since I tend to wilt.
That's it for this week – feel free to be a rebel with me and get your random on! Join in the fun – link up!
.

I'm also participating in Follow Me Back Tuesday – if you are a new Follower, please be sure to leave a link so I can follow you back!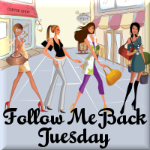 .
Once again I'm hopping aboard this fun friendly train – if you're traveling on the train, be sure to leave your link so I can follow you back!
I'm also joining Hop a Little Tuesday – Blog Hop for Moms: