Still a rebel at week four. Keely's hiatus is still in full swing, I think she wants to admire the awesome picture that the uber-talented Michele painted for her.  I'm hoping she'll be taking up the reins soon, because my cartoon me is getting a little annoyed that her wine glass has been replaced with this sign.   Join in the rebellious mode, won't you?
Mother Nature is still up to no good.  Enough said.
Hubby recently got hooked on Desperate Housewives – there aren't that many shows we watch together, but now that he caught up on all the past episodes from Season 1 to now, we can.  Except that I have to wait until Wednesday evening when he's not working late or at band practice to watch, instead of seeing it Monday with my morning coffee.  I just think it's funny that that's the show he got interested in, rather than something more 'manly', like Justified (I love that show).  I'm not complaining – it's fun to hear him talk about the characters like they're real people.
Apparently Pennsylvania changed the booster seat laws in 2007.  It used to be that a child had to sit in a booster seat until they reached either 80 lbs or 4-feet 9-inches tall.  Hubby and I had researched when Princess Nagger was an infant, making sure we had the best and safest seats for her, from the 'blob' days with the baby carrier car seat to the 5-point harness infant/toddler seat, to the really nice booster seat.  Apparently now the booster seat only applies to kids who are between the ages of 4 and under 8.
Since Princess Nagger is now 8, she was challenging me on my determination to keep her safe in a booster seat – she is, after all, a slight little thing.  But I was wrong, she was right.  Now she can ditch the 'baby seat' (as she calls it) and ride like a big person.  In fact, she took great delight in riding shotgun with me the other day (I had to explain where that expression came from) when we finally went to see the second Diary of a Wimpy Kid.  Where is the time going?  I'm still searching for the pause button.  I haven't found it.  And I keep forgetting not to blink.
It's really annoying how early stores change the seasonal stock.  Next year I need to make sure I shop much earlier for Easter for Princess Nagger than two weeks before.  You'd think two weeks would be plenty of time to get the cool stuff.  Like me, you'd think wrong.  Apparently Wal*Mart had exlusive rights to sell HOP the movie easter basket – the basket Princess Nagger is hoping to get this year.  I noticed that it was no longer available online, and figured if I couldn't get it in the store, I'd at least be able to get the HOP exlusive items and put together an Easter basket on my own.
Again, I was wrong.  There were no HOP items at all.  Nada.  Not even a spot on the shelves to indicate they were ever in existence – probably cleaned out the day they came out, which apparently was March 17th.  Sorry, but I'm not thinking 'Easter' on St. Patrick's Day.
So in order to make sure there isn't a disappointed Princess Nagger (and to keep the magic of the Easter Bunny alive and well along with Santa and the Tooth Fairy), I had to take my search online – and pay more than twice the price just to make sure we have one happy Nagger on Easter.  I'll have to figure out a great hiding place so next year I can shop the minute Easter items become available so I won't have to pay highway robbery, while not risking Princess Nagger discovering the stashed goods.
That's it for this week – feel free to be a rebel with me and get your random on! Join in the fun – link up!
.
I'm also participating in Follow Me Back Tuesday – if you are a new Follower, please be sure to leave a link so I can follow you back!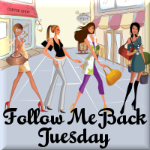 .
Once again I'm hopping aboard this fun friendly train – if you're traveling on the train, be sure to leave your link so I can follow you back!