Mother Nature has to be going through Menopause.  That's the only explanation for sending us 71-degree weather on Friday, only to snatch it away with blustery winds on Saturday, Snow/Sleet and Freezing Rain Sunday night into yesterday morning, and, at the time I'm writing this (late yesterday afternoon), it's snowing and there's a Winter Weather Warning calling for 6 to 9 inches of snow overnight, with a 'high'  today of 31 degrees – a low of 9.  Must have been a hot-flash on Friday.  I'm just sayin'.
With the sudden (albeit short) warm-up at the end of the week last week, hubby was really jonesin' to put up the fence he's been talking about ever since the next-door-neighbor's new-ish girlfriend's 10 or 11 year old kid moved in and likes to ride his noisy dirt bike and four-wheeler up and down the close-proximity driveway right around dinnertime (or in some cases, all damn day).  Not to mention the issue with the pesky (and annoying) pit-bull dog of theirs constantly coming into our yard harassing our dogs and using our yard as his own personal toilet.  You'd think living mostly out in the boondocks we could have avoided such an annoyance.  Apparently they're everywhere.
Hubby and our hot (according to Julie) carpenter friend were unsuccessful in obtaining the necessary fence-building materials, because it's a seasonal thing.  Meaning they have to wait until actual Spring before those particular materials were in stock. You'd think a lumber company would keep all kinds of lumber in stock all year round. You'd think wrong.  So we have to wait until sometime in March, when the 'seasonal' lumber is back in stock.  Too bad we can't enlist Mother Nature to send crappy weather just to the house next door, you know, to keep a lid on the noise until the actual event of spring.  Maybe I should rent a snow making machine and direct it in that direction.
Speaking of our hot carpenter friend (so, Julie, when are you coming to PA to meet the boy?) he was nagged by Princess Nagger into hurrying up with her dinosaur claw desk this weekend.  Here are some 'in progress' pictures:
Princess Nagger helped, and supervised the project:
In case you were wondering what's up with the wire he's putting on the edge, he's going to make the front mimic how the claw looks that he's modeling the desk from:
He's shaping the wire which will then be covered with plaster to 'sculpt' the claw's look and feel:
Princess Nagger is so excited to see what it will ultimately look like.  So am I.  He had big plans to finish it on Sunday, but since we were gone all day at the Paleopalooza in Philadelphia, he worked on other stuff instead, since we forgot he lost the key to our house, and the outside water spigot was frozen (he needed water to mix the plaster he's using to fashion the realistic look of the claw on the front of the desk).  He'll have it all done this weekend for sure, at least that's the deadline Princess Nagger has given him.
Speaking of Dinosaurs, the Paleopalooza at the Philadelphia museum was fun – more so for Princess Nagger than for hubby and I, because we're a little more impatient with being in a crush of people crammed into one location.  When we got there, the line to get into the museum was out the door.  Since one of the things we all wanted to make sure we saw was the special presentation by Dr. Scott Sampson (best known to kids by his prominence as the Paleontologist on Dinosaur Train), hubby kindly held a spot in line (per the suggestion of the museum organizers) while Princess Nagger and I went into the auditorium to watch a couple of special episodes of Dinosaur Train on the big screen.
After the screening, everyone had to exit to empty out the auditorium before they re-filled it to capacity for Dr. Scott's special presentation.
The auditorium holds 400 people, and every seat was full.  In fact, it was the most popular scheduled segment that they added an additional show or two in order to give more people the opportunity to enjoy it.  Luckily hubby holding a spot in line worked wonders, as we ended up close to the stage which garnered perfect photo opportunities of Dr. Scott in action:
Come back tomorrow to see more pics and read all about Paleopalooza.  Buddy the T-Rex was supposedly wandering around the museum so your kids could meet him in person, but there were so many people there we never got to see him to get a picture of Princess Nagger with him.  She was fine with that, though, she preferred to dig in a special area for fossils:
And had a chance to make her own dinosaur creation in another area:
She hasn't named what species this is that she created, I'll let you know when I find out.  Is it just me, or does her dinosaur look like it's dancing?
In spite of the long lines, the crush of rude and pushy people, it was an enjoyable day – especially for Princess Nagger.  And really, it's all about her, so as long as she had a good time, everyone is happy.

That's enough for this week – my brain is sort of on autopilot at the moment with Princess Nagger and Hovering Hubby both home yesterday and today, and I'm sure this morning I'll be spending some time shoveling snow.  Mother Nature and the Groundhog must be having one good laugh this morning.
Now it's time to head over to The Un-Mom – the queen of randomness, and even though she lives in the tundra of cold Canada and her garden is currently under 3-feet of snow, I bet she won't be having to shovel new snow this morning.  Feel free to get your random on and join in the fun!
.

Go forth and be Random!
.
I'm also participating in Follow Me Back Tuesday – if you are a new Follower, please be sure to leave a link so I can follow you back!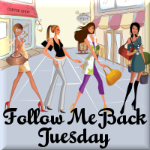 .
Once again I'm hopping aboard this fun friendly train – if you're traveling on the train, be sure to leave your link so I can follow you back!