We're still suffering with head colds over here.  In fact, Princess Nagger's morphed into something more, since she had a fever on Sunday into yesterday morning and a major phlegmy cough, so I kept her home from school.  Poor thing – yesterday morning when she finally got up, I asked her how she felt.  Her response was "Terrible."  I know it's bad when she responds like that, because usually she's like me and tries to ignore it, hoping it'd go away.
Another sure sign of how bad she was feeling on Sunday was that she turned down bacon for breakfast – she loves bacon, and would eat it all the time if I let her.  Hubby also ended up staying home from work yesterday too, because he wasn't feeling so hot either.  So while my sinus headache was raging on, I had to ignore it and play nursemaid instead.  With both of them home yesterday, it was making it difficult to blog, because any time I'd think of something I should write, the interruptions turned the words in my head as "Blah, blah, blah, blah, Achoo!"
In spite of the household being sick, we did work like maniacs on our Summer House renovations over the weekend.  Pretty soon I won't have to be blogging like this:
Even the plastic cover isn't keeping random dust off my laptop.  Progress is being made posthaste, and things are looking up for being mostly done this weekend, or at least the rest of the insulation installed, sheet rock hung and by next weekend I should have at least the beginnings of a custom desk mostly finished.  I'm so looking forward to enjoying the 'after' part more so than the 'before' and 'during' part.  Here's the mess as of Saturday morning:
Pretty scary, no?  Not as scary as the big pile'o'junk out on the back patio:
A majority of it will be a major burn pile, but the non-burnable things like the discarded insulation (which is non-flammable) will have to be bagged for the garbage dudes to take away later this week.  Lucky dudes.  But look, this is what we started off with in the attic:
I discovered that when we moved in 7-1/2 years ago some of the people that were helping us move had mistook the 'attic' boxes to mean go into the Summer House attic, rather than the house attic (because it meant only going up one flight of stairs instead of 2-1/2).  So the missing boxes of Christmas decor, kitchen items, Barbies and other stuff I thought were long gone, were stuck in the Summer House all this time.  I even found my box of photo albums from my teen/early 20's years.  Hubby moved all that stuff to the shed – and accidentally buried the photo albums box, so once I get that unburied again, I'll have to share some fun photos.  Check out the cleared out attic-now-loft of hubby's future man-cave:
We joked that he decided to move up to the loft to help with his lofty aspirations.  We couldn't do it without our own monkey-boy friend Robby (pictured above), who is a genius when it comes to visualizing the end result and getting all that manly-man stuff done.
He also had fun joking around about pole dancing on the pole that assists in keeping the second floor secure via the center beam joists above and below:
After getting the insulation up and the first sections of dry wall hung, Rob and the hubby started working on the hubby's custom desk:
You can't see the whole thing from this angle, but the shape of the desk is a music clef – since 75% of hubby's time spent in his man-cave is usually writing and recording music, it seemed fitting.  The 2×4 posts will be replaced with the posts we took off the front porch when we redid that, and they still have to decide what the actual top will be made of and get it done.
I have to do some contemplating and decide how I want my desk to be, since Rob will be making a custom one for me, too.  Jokingly I asked if it could be heart-shaped, which of course then sent the conversation  into crazy mode, with him saying that if it were placed in the corner it would just look like boobs, and it would have to be painted as such.  I commented that if my blog were named "Boobies, Babies and a Blog" that I'd be all over it, but I'd have to leave it to my Boobies friend to have that desk design instead.
I'll be posting a ton more pictures of the renovation tomorrow – I didn't want to overload your eyeballs with the disaster that is being transformed into awesomeness.  I guess I'm not quite as random today, but definitely already too wordy, so I'll stop here.

Don't forget to head over to The Un-Mom – who's always entertaining with her randomness. Feel free to get your random on and join in the fun!
.
Go forth and be Random!
.
I'm also participating in Follow Me Back Tuesday – if you are a new Follower, please be sure to leave a link so I can follow you back!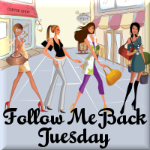 .
Once again I'm hopping aboard this fun friendly train – if you're traveling on the train, be sure to leave your link so I can follow you back!