Happy Aloha Friday!
.
In Hawaii, Aloha Friday is the day that we take it easy and look forward to the weekend. So on Fridays let's take it easy on posting, too. Ask a simple question…nothing that requires a lengthy response. It's a great way to make new blogging friends!
Let's get right to it!  My question for you this week is:
Do you or your kids dress up for Halloween?  And if so, what are you/they dressing up as this year?
It's the first day of October, which means Halloween is just 30 days away!  Since visiting my sister and her boys over the summer (they're 20 and 18), Princess Nagger was introduced to the Legend of Zelda games by her cousins, and was hooked.  So I had to buy a couple of them so she could play them here at home (or rather, so I could play for her while she watched and cheered me on).
Since we couldn't find any decent dinosaur costumes (which I was actually relieved about, she's still my little Princess!) she decided she would like to dress up as Princess Zelda.  Which means my work is cut out for me the next 30 days trying to make a costume to do it justice.  But I don't mind – it will be much easier to make than a dinosaur costume!
When I lived in Seattle (and before kids) I used to go to Halloween parties where everyone would dress up.  One year I made a Red Riding Hood costume with a cool velvet full cape and hood, carrying a picnic basket with a stuffed wolf.   Another year I made a Judy Jetson costume by following the drawings of the cartoon – including the triangular collar and peplum skirt.  The only part I couldn't get 'right' was figuring out how to make my pony-tail flip up and over since my hair was too long and heavy to do that, so I just went with a regular pony tail. Now we pretty much just focus on Princess Nagger's fun and costumes – it's more fun!

How about you?  Did you/do you dress up for Halloween?  What characters did you go as?  How about your kids?  Do they dress up, and what are their plans for this year?
.
Follow Friday 40 and Over
.
40 is the new 20, isn't it?  I'm participating in Follow Friday 40 and Over – please be sure to leave a link to your blog so I can come check out your site and follow you, too!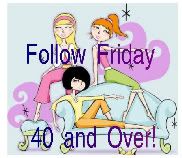 .
I'm playing along with Fun Follow Friday hosted by Simply Stacie and My Wee View I'm going to make an effort this week!  The goal of this hop is to get new Google Friend Connect Followers for your blog and be introduced to new blogs to follow.  be sure to leave a link when you follow so I can follow you back!  Have a great weekend!