.
It's been awhile since I've had the opportunity to participate in Aloha Friday – since I'm still getting back into the 'normal' routine of things after having been gone for two weeks on vacation, my question for you this week is:
Do you take an annual vacation?
Growing up, we always went on vacation each and every year.  Since my parents couldn't afford big exotic trips, our typical vacation was going camping.  My dad had about 3 weeks vacation, so we'd split the time up and spend 1-1/2 weeks camping in the mountains, the other 1-1/2 weeks camping at the ocean.  That was the beauty of growing up in Washington State – either are just a half day drive away.
We would always bring our bikes with us – we even have old movies of us kids back to tricycle age dragging boxes behind our bikes and trikes collecting fire wood.  When we camped in the mountains, we'd always go tubing down the river, and when we camped at the ocean, since it's too cold to play for any extended period of time in the crashing waves (according to my mom, anyway – we always protested having to leave the water), we'd spend time on the jetty fishing.
Lots of good memories, lots of fun.  I've pretty much stuck with that 'tradition' now that I have my own family – although getting my hubby to actually go camping is like pulling teeth.  His idea of 'roughing it' is a hotel room with room service.  Though you sure didn't hear me complain the few times we 'roughed it' at an all inclusive resort in the Caribbean.  He won't have to twist my arm to go back there again, which we will do in the next couple of years.
I have convinced him that camping would be an awesome experience for Princess Nagger, so maybe next year we'll get him out in the wild.  For now, I'm content with the annual road trips visiting friends and family in other states – that's been a good experience for Princess Nagger too.
Next week you'll finally get to hear all about our trip to Iowa – I took over 700 pictures.  Ahem. I'll try not to inundate you and overload your brain.  What about you?  Do you 'do' vacations?
Friday Follow
.
Welcome to this week's edition of the new Friday Follow – be sure to leave a link when you follow so I can follow you back!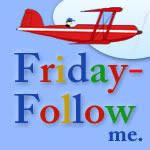 .
I'm also participating in Fun Follow Friday hosted by Simply Stacie and My Wee View. The goal of this hop is to get new Google Friend Connect Followers for your blog and be introduced to new blogs to follow.  be sure to leave a link when you follow so I can follow you back!  Have a great weekend!