This is the third week of Advent which is "Love"… Since it's December 13th, it's also St. Lucia's Day, as celebrated in Sweden.
A popular saying associated with this holiday is:
Lucy Light,
The Shortest day &
The Longest Night.
The biggest and longest holiday of the year is the magical Christmas of Sweden. One of the biggest celebrations is St. Lucia's Day (or St. Lucy's Day) on December 13th.
The Swedish Lucia is a bearer of light…literally. She wears a crown of candles in Lingonberry branches which are evergreen and symbolize new life in winter. On December 13th the whole country is lit up as Swedes mark Lucia Day. It is a day associated with the Italian martyr, Saint Lucia, a young Christian girl who was killed for her faith in 304 AD. Lucy means 'light' so this is a very appropriate name.
The most common story told about St Lucia is that she would secretly bring food to the persecuted Christians in Rome, who lived in hiding in the catacombs under the city. The reason she wore candles on her head was so that she had both her hands free to carry things.
December 13th was also the Winter Solstice, the shortest day of the year, in the old 'Julian' Calendar, so a pagan festival of lights in Sweden was turned into St. Lucia's Day.
Many Lucia events stay true to tradition with a girl dressing in a white dress with a red sash round her waist and a crown of candles on her head, although a switch to a battery-powered version is increasingly common, for obvious safety reasons.
St Lucia's Day first became widely celebrated in Sweden in the late 1700's, and is also celebrated in Denmark, Norway, Finland, Bosnia, and Croatia.
You can see why the song Sankta Lucia is one of the most popular carols to sing. It has a beautiful, haunting melody and it's all about the long night and the return of daylight. Here's one version of Sankta Lucia in Swedish, with an English translation:
Natten går tunga fjät
(Swedish)
Night Walks with a Heavy Step
(English)
Natten går tunga fjät
rund gård och stuva;
kring jord, som sol förlät,
skuggorna ruva.
Då i vårt mörka hus,
stiger med tända ljus,
Sankta Lucia, Sankta Lucia.
Night walks with a heavy step
Round yard and hearth,
As the sun departs from earth,
Shadows are brooding.
There in our dark house,
Walking with lit candles,
Santa Lucia, Santa Lucia.
Natten går stor och stum
nu hörs dess vingar
i alla tysta rum
sus som av vingar.
Se, på vår tröskel står
vitklädd med ljus i hår
Sankta Lucia, Sankta Lucia.
Night walks grand, yet silent,
Now hear its gentle wings,
In every room so hushed,
Whispering like wings.
Look, at our threshold stands,
White-clad with light in her hair,
Santa Lucia, Santa Lucia.
Mörkret ska flykta snart
ur jordens dalar
så hon ett underbart
ord till oss talar.
Dagen ska åter ny
stiga ur rosig sky
Sankta Lucia, Sankta Lucia.
Darkness shall take flight soon,
From earth's valleys.
So she speaks a
Wonderful Word to us:
A new day will rise again
From the rosy sky…
Santa Lucia, Santa Lucia.
And now, some quotes for Quotable Sunday I've found some great quotes on 'Love'…enjoy!
"The most important thing in life is to learn how to give out love, and to let it come in."

Morrie Schwartz
"I have found the paradox, that if you love until it hurts, there can be no more hurt, only more love."
Mother Teresa
"Love is just a word until someone comes along and gives it meaning."
Unknown
"Love doesn't make the world go 'round. Love is what makes the ride worthwhile."
Franklin P. Jones
"Love is much like a wild rose, beautiful and calm, but willing to draw blood in its defense."
Mark Overby
"Love isn't finding a perfect person. It's seeing an imperfect person perfectly."
Sam Keen
Quotable Sunday is brought to you by Toni, from A Daily Dose of Toni – why don't you join us?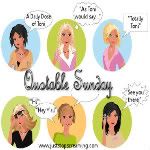 No tags for this post.