This is the fourth (and final) week of Advent which is "Joy"… So of course for this week's Quotable Sunday I've found some great quotes on 'Joy'…enjoy!
"Joy is the feeling of grinning inside."

Melba Colgrove
"Joy is a net of love by which you can catch souls."
Mother Teresa
"Joy is increased by spreading it to others."
Robert Murray
"Joy delights in Joy."
William Shakespeare
"When you wish someone joy, you wish them peace, love, prosperity, happiness… all the good things."
Maya Angelou
"One of the sanest, surest, and most generous joys of life comes from being happy over the good fortune of others."
Robert A. Heinlein
"One joy shatters a hundred griefs."
Chinese Proverb
"Joy is the holy fire that keeps our purpose warm and our intelligence aglow."
Helen Keller
"Nothing I've ever done has given me more joy and rewards than being a father to my children."
Bill Cosby
"Shared joy is a double joy; shared sorrow is half a sorrow."
Swedish Proverb


Quotable Sunday is brought to you by Toni, from A Daily Dose of Toni – why don't you join us?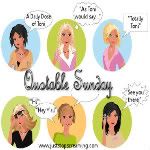 No tags for this post.