You can already feel the magic in the air as the holidays approach at a rapid pace.
*ducking for cover*
I
know
, it's only the
first
day of
October
and I'm using the
H
word. But this is truly when the traditions start to really kick in as the upcoming festivities prevail.
Since I don't traditionally decorate for Halloween with ghosts and goblins and ghouls and witches, I keep the decorations pretty generic with a 'Fall' theme. Sure I have scarecrows and pumpkins included, but not the scary kind. That way I'm covered not only for Halloween but for Thanksgiving, too.
Thanksgiving Day is such an enjoyable time, though
I do
spend a majority of it in the kitchen. But I enjoy cooking the Thanksgiving Feast, so it's not such a bad place to be. My mom always cooked a wonderful feast on Thanksgiving Day, and having the whole family together giving thanks was always so much fun. Eating the feast was even more fun.
Now that I live so far away from my family, I still follow with the traditions instilled in us growing up. I want to instill those same traditions in the Princess Nagger to pass on to her future family, too.
I cook a huge Thanksgiving feast – whether it's just going the be the three of us, or if we end up having 15 people over to share the blessings. I don't even mind the clean up afterwards, because I'm still buzzed from wine the whole 'thankful' thing. I never venture out the day after Thanksgiving – Black Friday does not appeal to me. Been there, done that – twice, and vowed never to be suckered convinced to ever do it again. Instead, I start to pull out the boxes of Christmas decorations to swap the fall decorations with Christmas ones.
My original tradition was to wait until the first Saturday after December 9th to go out and get a live Christmas tree and do all my Christmas decorating. Why? Because my birthday happens to be on December 9th. I didn't want my
birthday celebration
'muddied' by the influx of Christmas decor – after all, you get bombarded with Christmas earlier and earlier each year, and being that my birthday is a mere two weeks from Christmas I ended up getting gypped by the old "This is your birthday
and
Christmas present!" routine. Bah Humbug! Christmas was not going to invade my birthday. Not on my watch.
And then I grew up.
Or, I realized that I was spending a lot of time and effort decking the halls for Christmas, only to have to yank it all down two weeks later. That's a lot of work in a short two-week period of time. So I started a new tradition – Christmas decorating over Thanksgiving weekend. That way I have a nice, long weekend to get all my fall decorations taken down and the over abundance of Christmas decorations put up. Quite frankly once I changed that tradition, it seemed to make my birthday even more festive. Go figure.
One of the very important traditions of Christmas when growing up was that we always celebrated Christmas on Christmas Eve. In Swedish tradition, Christmas Eve is the height of the festivities. Traditionally it is a day when "no work should be done other than seeing to one's livestock." This is the day of the Christmas feast, which comprises a smörgåsbord including a few traditional dishes such as ham, jellied pigs feet, lutfisk and rice porridge. Thankfully, though, my mom didn't include the jellied pigs feet in our Christmas Eve smörgåsbord. Pickled herring, though, was a different story.
We'd have a huge Christmas dinner, we'd play games, enjoy family, and yes, open our presents on Christmas Eve. It was my Swedish Great-Grandmother's tradition, passed down. We would, of course, wake up Christmas morning and excitedly go see what Santa left us overnight.
You see, the gifts we opened on Christmas Eve were the boring ones – the ones from parents and grandparents. The pajamas and socks and wildly knit sweaters we would put on only for a picture and quickly shove into the back of the dresser or closet, conveniently forgetting about them until…darn! They don't fit any more, how sad!
But Christmas morning was always the exciting morning – because that's when we'd get the cool gifts. The ginormous play house one year – the barbie camper and skiing Ken another….those were the fun Christmases and my parents did a great job keeping the magic alive for us when we were kids. I don't remember how old I was when we decided that Santa really wasn't all that and we stopped getting Santa gifts on Christmas morning. But we still celebrated on Christmas Eve anyway. It was tradition.
One year my dad suggested we do what 'normal' people do and open one gift on Christmas Eve and save the rest for the next morning. We reluctantly agreed (not that we really had any say in the matter) and each opened one gift Christmas Eve. Christmas morning we took turns opening our gifts – but for some reason the 'magic' didn't seem to be as prominent. Maybe because Santa was no longer bringing the magic. We cleaned up the wrapping paper mess and went about our day. It didn't feel right. It felt like a regular, ordinary day. With gifts.
We went back to our Christmas Eve tradition the following year and never deterred from it again. We decided that doing what our Great-Grandmother (and her mother, and her mother, and so on, and so on) had passed down to us was worth keeping the magic alive. We figured out that the reason waiting until Christmas Day to celebrate didn't feel right was because it was only one day. Celebrating on Christmas Eve, we got to celebrate for two days.
Now that I have a little munchkin to spoil rotten spin some magic with, we're keeping that tradition alive, too. On Christmas Eve she gets to open all the gifts from friends and family. Of course being as young as she is, it takes a major feat to get her in bed at a reasonable hour so she can be fast asleep before Santa makes his appearance. We almost got busted one year close to midnight as we were relocating the 'Santa gifts' from the shed into the house under the tree – luckily hubby has 'teacher hearing' and heard the pitter patter of little feet upstairs.
I went up to investigate. Princess Nagger had scurried down the hall and was hiding, giggling, behind the door in the guest room. It took a while to get her all settled back into bed, with visions of sugar plums dancing in her head, so we could complete our Santa task unnoticed. We decided to wait a little longer to be sure she was sound asleep and wouldn't wake up and spoil the surprise. By the time we finished, it was 2am.
Now we all simply go to bed at a reasonable hour and I set my alarm for 3am to get up and move the packages in stealth mode. In the dead of night. In my jammies. Hopefully the neighbors aren't up at that ungodly hour watching me balancing packages between the shed and the house. Unless they can't sleep and are in need of a good laugh.
Since Swedish Christmas celebrating starts on the first Sunday of Advent, Princess Nagger starts her Advent Calendar – she has a felt one with just numbered pockets to put the felt candy cane in to mark off each day as Christmas Eve approaches, but I always make sure I get her one of those chocolate advent calendars…so she can have a piece of chocolate every day during Advent. I also get one for myself and one for my hubby – so we can have a piece of chocolate a day, too. It's a tradition.
What are your Holiday Traditions?
This post was brought to you by the
Spin Cycle
… To see what kind of traditions others are enjoying, stop over to see Jen, she's keeping traditions alive for
Sprite as her Keeper
and I bet she'd love to hear all about yours!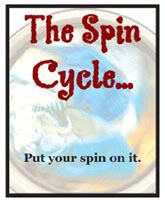 No tags for this post.