Are we having
fun
yet? The past couple of weeks have been a bit of a challenge, so I've decided that I'm going to have some fun this week…who's with me? And in that vein, here are some quotes about
Fun
:
"If you obey all the rules, you miss all the fun"

Katherine Hepburn
"People rarely succeed unless they have fun in what they are doing."

Dale Carnegie
"Unless each day can be looked back upon by an individual as one in which he has had some fun, some joy, some real satisfaction, that day is a loss."

Anonymous
"It is a happy talent to know how to play."

Ralph Waldo Emerson
"No, you never get any fun out of the things you haven't done."

Ogden Nash
"Live life fully while you're here. Experience everything. Take care of yourself and your friends. Have fun, be crazy, be weird. Go out and screw up! You're going to anyway, so you might as well enjoy the process. Take the opportunity to learn from your mistakes: find the cause of your problem and eliminate it. Don't try to be perfect; just be an excellent example of being human."

Anthony Robbins
"If it's not fun, you're not doing it right."

Bob Basso
"Creativity is inventing, experimenting, growing, taking risks, breaking rules, making mistakes, and having fun."

Mary Lou Cook
"Writing is the most fun you can have by yourself."

Terry Pratchett
"When you have confidence, you can have a lot of fun. And when you have fun, you can do amazing things."

Unknown
"Fun is good."

Dr. Seuss
Quotable Sunday
is brought to you by
Toni,
from
A Daily Dose of Toni
– why don't you join us? Here are the basic and easy-to-follow rules…come on and join in, it's fun! 😉
The rules (for newbies)
~Go to your blog and post one or more of your favorite quotes.
~Go to Toni's and sign mister linky with the link to your post and then go visit the other participants and leave some comment love.
~Spread the word of course…we want lots of Quotes to read 🙂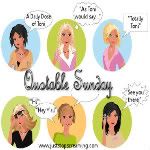 No tags for this post.