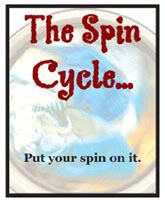 Jen over at
Sprite's Keeper
promotes weekly fun with the
Spin Cycle
. This week's topic is Manners…Everyone has a different philosophy when it comes to manners. What's yours?
'Please' and 'Thank You' go a long way. I learned that growing up, my parents were sticklers for having good manners. We would get nothing if we demanded it, less if we acted up. It amazes me how manners tend to be lacking wherever we go. Princess Nagger knows that she's not going to get anything by simply demanding it. A typical conversation can go like this:
PN: "I want a glass of milk."
Me: "Thanks for sharing."
PN: "No, Mama, I said, I want a glass of milk!"
Me: "And I said, thanks so much for sharing – it's nice to know what you want."
PN: "Well? Are you going to get me a glass of milk?"
Me: "What?"
PN: "A glass of milk?"
Me: "What?"
PN: "I said…are you going to get me a glass of milk?"
Me: "What?"
PN: "Oh………may I have you to get me a glass of milk, please?"
Some days the 'What?' doesn't give her enough of a clue, so it takes a little longer for the light bulb to light up over her head, but eventually she gets it. I have a habit of pulling the 'What?' card on other people's kids, too, if they ask me for something without that magic word…sometimes it's appreciated, sometimes it's not.
You know that saying, 'Practice what you Preach?' We're big on that one – I can't expect her to exhibit good manners if I don't, so I do make sure that if I tell ask her to do something, I add the 'Please' to it, as well as the 'Thank You' when it's accomplished. I can only hope that she continues with the good manners when I'm not around to annoy prompt her to do so.

I do, however, have to remind hubby more often than not to exhibit 'good manners', especially when the Princess Nagger is around – I really don't want her picking up the habit of letting out a nice juicy fart or loud burp and follow that with the statement 'Ahhhh! That was a good one!' like hubby tends to do…at least he now follows that statement with 'Oh, and excuse me!' Princess Nagger is on the right track – she has been complimented as a nice, polite child. Hubby, on the other hand, is still a work on progress.
Want to read some excellent spins? Then click here. 🙂