Sleep, glorious sleep.  Everybody and every body needs it.  Your brain definitely needs it.  Different ages need different hours – it's interesting how newborns need about 18 hours per day, and as you get older you need less and less…until you get older, then it reverts back to needing more.
Princess Nagger is not a morning person – on the weekends she'll happily sleep in until noon if I let her.  Sometimes I do, depending on how late I let her stay up the night before, or how many hours of sleep she needs to catch up on from the week.  Everyone can stand to use a recharge now and again.
Little Dude is the opposite – he wakes up literally at the crack of dawn every morning, loud, boisterous, ready to go – so that pretty much negates the hubby and I sleeping in on the weekends anymore, with the compact human alarm clock blaring at 6:30am (or earlier). I've gotten him acclimated to at least playing quietly in his room until everyone wakes up, to give us all a chance to sleep in on the weekends.  He's managed to keep it under wraps until 6:55am.  Ahem.
Falling asleep is tricky – both the hubby and Princess Nagger can be asleep within five minutes of their head hitting the pillow.  Oh how I wish that were the case for me.  My mind is always going, so it takes at minimum a half-hour to fall asleep for me.
On those nights that the hubby's snoring quite loudly, it takes even longer for me to fall asleep.  I end up interrupting his blissful (snoring) sleep when I jab him with my elbow, knee or foot.  There was one time I kept having to nudge and jab him, and with each successive nudge, he'd shift away from me…until the final jab he moved away and fell off the bed.
Oops.
Little Dude tends to take two hours to finally fall asleep – he does everything in his power to keep himself awake.  Whether that be rolling all over the bed, burrowing under his covers, turning his socks into sock puppets, sticking his head inside his pillow case (with his pillow still in it), singing and talking, talking, talking…to himself.  All in the name of just keeping himself awake, no matter how tired he is.  He'll finally quiet down and crash out about two hours later.
Which brings me to this week's question:

How long does it take you to fall asleep? 
Have a great weekend!
.
Link up if you like – that way I can visit you easily, especially if you're a new follower (just please oh please leave a comment when you do!). You can be participating in any (or none) of the hops listed below – it's a Free-For-All!

Mister Linky's Magical Widgets — Auto-Linky widget will appear right here!
This preview will disappear when the widget is displayed on your site.
For best results, use HTML mode to edit this section of the post.
.
Happy Aloha Friday!
.
In Hawaii, Aloha Friday is the day that we take it easy and look forward to the weekend. So on Fridays let's take it easy on posting, too. Ask a simple question…nothing that requires a lengthy response. It's a great way to make new blogging friends!
Follow Friday 40 and Over
.
There are a lot of fabulous bloggers who are 40, so I'm participating in Follow Friday 40 and Over – please be sure to leave a link to your blog so I can come check out your site and follow you, too!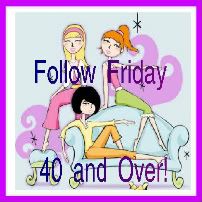 More Friday Follow Fun:
.