Before the holidays I had been doing the usual barrage of shopping for gifts.  After a whirlwind of several stops and fruitful shopping, my final stop of the day was a combination of a few returns from what I'd ordered online followed by a perusal through the entire store to buy more gifts (and a few necessities). 
When I unloaded my bulging cart into my vehicle, I breathed a deep sigh of relief and went to pull out my phone to make sure I hadn't inadvertently missed any calls while traipsing up and down the multiple aisle, since cell signal can sometimes be sporadic at best.
Only my cell phone wasn't anywhere to be found.
My hubby had just a couple of weeks prior jumped on the bandwagon of actually getting SmartPhones for each of us, after years of surviving with DumbPhones. 
Had I lost my DumbPhone, that wouldn't have been an issue; replacing that wouldn't have been a major financial setback so close to the holidays.
Or at all, really. 
Of course the first time ever to lose a cell phone, it had to be the SmartPhone.
My stomach having already done multiple somersaults, I knew I had to start retracing my steps – beginning with the store whose parking lot I was still parked in. 
I first stopped at the Customer Service counter on the off-chance that I may have left it there while doing my return. 
No luck. 
I then retraced all my steps through the entire store, most likely looking like a psycho woman peering under garment racks and checking in dinosaur toy bins. 
Still no luck.
I double-backed to the Customer Service counter and left my number with them, including a description of the phone just in case a Good Samaritan happened to be kind enough to turn it in, and reluctantly returned to my car racking my brain to remember when I last saw my phone.  I did have it when I went into the store, I remember setting it next to my bag in the top part of the cart, but didn't remember seeing it while at the checkout, or when I was leaving the store.
I was certain I must have dropped it somewhere in the store, and someone else must have picked it up.  As I resigned myself to having to break the news to the hubby, I suddenly had the idea that maybe, just maybe, the phone was still in the cart I had used. 
I went back out to the cart return, praying that no one had retrieved the carts from the parking lot yet, or that no one had grabbed the same cart I had just returned less than an hour ago.
I walked over, peering at the carts in the rack, and almost let out a whoop when I saw my phone nestled in the cart vertical against the back of the cart.  It had slipped from the top part of the cart into the basket unnoticed by me. 
I hadn't realized I had been holding my breath until I let it out in a rush as I reached for my phone.  Needless to say, I've never made that mistake again, nor have I lost my phone since.
Which brings me to this week's question(s):

Have you ever lost your phone somewhere?  Or lost anything important?
Have a great weekend!
.
Link up if you like – that way I can visit you easily, especially if you're a new follower (just please oh please leave a comment when you do!). You can be participating in any (or none) of the hops listed below – it's a Free-For-All!

Mister Linky's Magical Widgets — Auto-Linky widget will appear right here!
This preview will disappear when the widget is displayed on your site.
For best results, use HTML mode to edit this section of the post.
.
Happy Aloha Friday!
.
In Hawaii, Aloha Friday is the day that we take it easy and look forward to the weekend. So on Fridays let's take it easy on posting, too. Ask a simple question…nothing that requires a lengthy response. It's a great way to make new blogging friends!
Follow Friday 40 and Over
.
There are a lot of fabulous bloggers who are 40, so I'm participating in Follow Friday 40 and Over – please be sure to leave a link to your blog so I can come check out your site and follow you, too!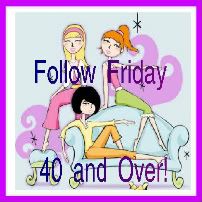 More Friday Follow Fun:
.