Once upon a time, when I was working 60+ hours a week in the Corporate World, I always somehow managed to keep my house or apartment spotlessly clean.  It was second nature, making sure things were put away.  Possibly bordering on OCD with everything having a place and everything in its place.
Fast forward to when Princess Nagger was born and deciding to leave the Corporate World to stay home with her, I still kept the house neat and tidy.  It was a bit more of a challenge, particularly with the hubby being prone to leaving things lying around willy nilly, and Princess Nagger's toys growing with each passing holiday and birthday.
She inherited the propensity to leave things laying about from her Dada.  But since I wasn't ensconced in multiple hours of working away from home, I rolled with it, and things were mostly always in their place.
As Princess Nagger grew out of babyhood into the toddler stages, the number of toys continued to grow, as did the mess.  She has inherited the pack-rat mode from me, unwilling to part with things because she may want or need them "some day". 
I had a dream that when she started school, I'd have plenty of time to surreptitiously weed out the excess and restore order to the chaos that had grown over the years. Now that she's in 3rd grade, that dream has yet to become a reality.  It's amazing how much you anticipate all this free time when you choose to leave the workforce and stay home to raise the kidlets – somehow those 24 hours in a day simply aren't enough to get everything done.
When Little Dude joined our family over the summer, the collection of 'stuff' has doubled, along with the tornadic mess both kids are guilty of.  It's a miracle if my house is picked up on a weekly basis, forget about the daily mode I used to do once upon a time.
Now I simply dream of a tidy house and hope that dream comes true some day.  Maybe when we move back West and secure my dream house, with extra rooms specifically designed to contain the every day messes – a play room for the toys, and a big-girl playroom for me and my crafty stuff.  One can dream, right?
Which brings me to this week's question(s):

How do you keep order in your house? Or is your house like mine, with that 'lived in' look?
Have a great weekend!
.
This not-quite a dream sequence Spin Cycle was brought to you part by the lovely Gretchen at Second Blooming, who has graciously taken the reins from Jen who, as Sprite's Keeper has too much on her plate and wanted to make sure her Spin Cycle baby was in good hands.  It definitely is.  Check out the other Dreamy Spinners – let's all dream together, shall we?
I'm multiple-dipping as you can see – Link up if you like – that way I can visit you easily, especially if you're a new follower (just please oh please leave a comment when you do!). You can be participating in any (or none) of the hops listed below – it's a Free-For-All!

Mister Linky's Magical Widgets — Auto-Linky widget will appear right here!
This preview will disappear when the widget is displayed on your site.
For best results, use HTML mode to edit this section of the post.
.
Happy Aloha Friday!
.
In Hawaii, Aloha Friday is the day that we take it easy and look forward to the weekend. So on Fridays let's take it easy on posting, too. Ask a simple question…nothing that requires a lengthy response. It's a great way to make new blogging friends!
Follow Friday 40 and Over
.
There are a lot of fabulous bloggers who are 40, so I'm participating in Follow Friday 40 and Over – please be sure to leave a link to your blog so I can come check out your site and follow you, too!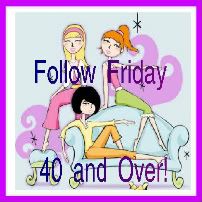 More Friday Follow Fun
.