Holy cow this week went by fast, didn't it?  Forget about the week, this year has gone by fast.   I'm almost done with my Christmas shopping – usually I try to have all of the shopping done by Thanksgiving so I can spend the weeks leading up to Christmas wrapping presents and enjoy the season.  I still have a few things to pick up, mostly waiting for my sister to give me some ideas on what she'd like (hello, Kimn – where's my list?) 
I'm a big online shopper – it's much easier for the gifts to arrive incognito on my doorstep so curious little eyes don't see what I'm getting.  Curious little eyes usually turn into blabbermouths.  No matter who the gift happens to be for, they'll spill the beans to the recipient in their unabashed excitement.
Which leads to a minor conundrum for wrapping presents – it was easy after Princess Nagger started school several years ago, I had all day to leisurely wrap presents without worry of gifts being seen and blabbed about.  Now that Little Dude is on the scene, I have to limit my wrapping times to his afternoon nap.   A narrow window at best.  But it will get done.  Once I get the piles'o'boxes that are everywhere with all the gifts I've gotten so far organized, I can get busy.
Since we're planning on spending the Christmas week in Iowa with my sister and her family, I'll need to organize the Santa gifts first so I can wrap and ship them to have my sister hide them for me until Christmas Eve.  I figure that way neither kidlet will see the special Santa paper and bust me on being Santa so the magic can last a while longer. 
Which brings me to this weeks question(s):

Do you like wrapping presents?  If you give your kids gifts from Santa, do you wrap them in special paper that your kids don't see until the presents are waiting on Christmas morning?
Have a great weekend!
.
Link up if you like – that way I can visit you easily, especially if you're a new follower (just please oh please leave a comment when you do!). You can be participating in any (or none) of the hops listed below – it's a Free-For-All!

Mister Linky's Magical Widgets — Auto-Linky widget will appear right here!
This preview will disappear when the widget is displayed on your site.
For best results, use HTML mode to edit this section of the post.
.
Happy Aloha Friday!
.
In Hawaii, Aloha Friday is the day that we take it easy and look forward to the weekend. So on Fridays let's take it easy on posting, too. Ask a simple question…nothing that requires a lengthy response. It's a great way to make new blogging friends!
Follow Friday 40 and Over
.
Follow Friday 40 and Over is Back! There are a lot of fabulous bloggers who are 40, so I'm participating in Follow Friday 40 and Over – please be sure to leave a link to your blog so I can come check out your site and follow you, too!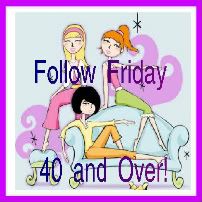 More Friday Follow Fun
.