Can you believe that Thanksgiving is a mere two-weeks away?  Well, if you want to be technical about it, it's really only 13 days away.  I love Thanksgiving.  It's kind of a bummer that Thanksgiving tends to get pushed to the background now that Christmas starts loading up the shelves at or before Halloween.  I still consider Thanksgiving weekend to be the weekend that kicks off the whole Holiday season. 
I love cooking up a huge feast (and devouring said feast), even though hours of preparation and cooking can be demolished in 13 minutes. I read that statistic somewhere.  The main course, of course, will be the Champagne Turkey I make each year, along with all the usual side dishes and desserts.  I'll spend the day before Thanksgiving doing a lot of the 'make ahead' parts (including making pies) so there's little less grunt work left for the actual day. 
Princess Nagger's favorite Thanksgiving pie is Pumpkin Pie – so much so, she's asked that I make her one for her birthday next week, in lieu of an actual birthday cake.  She'll still get a birthday cake, but that will be for her party which will be the Saturday after.  Which I still need to plan.  I guess I better get busy.
Which brings me to this weeks question(s):

Do you make or eat a big Thanksgiving feast? If so, what's your favorite dish of said feast?
Have a great weekend!
.
Link up if you like – that way I can visit you easily, especially if you're a new follower (just please oh please leave a comment when you do!). You can be participating in any (or none) of the hops listed below – it's a Free-For-All!

Mister Linky's Magical Widgets — Auto-Linky widget will appear right here!
This preview will disappear when the widget is displayed on your site.
For best results, use HTML mode to edit this section of the post.
.
Happy Aloha Friday!
.
Follow Friday 40 and Over
.
Follow Friday 40 and Over is Back! There are a lot of fabulous bloggers who are 40, so I'm participating in Follow Friday 40 and Over – please be sure to leave a link to your blog so I can come check out your site and follow you, too!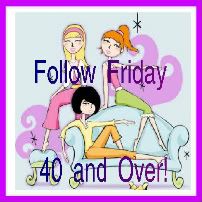 More Friday Follow Fun
.
.
.
Note: Part of this post was written for the Bounce Sampling Program by way of BlogHer and P&G, since they so generously sent me a free Bounce Dryer Bar. No compensation was given or received, aside from the free bar to try out and give them my thoughts. Obviously all thoughts are strictly my own with no outside influence by any means of any sort. Except for feedback from the hubby, who thanked me for not making his clothes smell too 'pretty'. See my Disclosure Policy here.