It's crazy how dependent we've become on technology – and the internet – and actually being able to watch TV since the cable companies have pretty much taken over the world and you can't get any decent channels with just an antenna.   And even though I'm not a phone person, not having a phone for 5 days felt like an eternity.  Add in to that cable and internet, and the trifecta outage was a major test on my sanity.  I'm grateful we didn't lose power for that entire time, and hope those that are still waiting for theirs to come back will be restored soon.
Speaking of sanity, laundry seems to be a never-ending cycle.  Just when I think I'm all caught up, there's a fresh pile filling the hamper (usually because hubby will finally collect his discarded pile of dirty clothes from the floor on his side of the bed).  I don't know about you, but Little Dude and Hubby's clothes always seem exponentially smellier than either Princess Nagger or my clothes.  It must be a guy thing. Boys can be super smelly.
I usually wash Princess Nagger and my clothes together, and before the Little Dude came along, I'd wash hubby's clothes solo.  Now the loads are separated by 'his and hers' loads.  Mostly because I wash PN and my clothes on the delicate cycle, and both the hubby and Little Dude's clothes need more vigorous cleaning.  Plus I'll use a nice smelling fabric softener with the girl clothes, but not with hubby's clothes since he didn't want to smell like a girl.  Ahem.
One thing I do still do, though, is make sure I add a dryer sheet to all the loads of laundry, whether or not I've used fabric softener in the wash cycle, because even with liquid fabric softener, you still get stiff/scratchy/static-cling clothes.   Dryer sheets make a world of difference. 
Recently I received a Bounce Dryer Bar to try out, compliments of P&G and BlogHer.  Princess Nagger likes the Bounce Dryer Bar commercials, and kept telling me I should get one, because "You just stick it and forget it, Mama!"  My skepticism kept me from buying one, because I just wasn't confident that it would really work, and I kept thinking about how some deodorants are supposed to be 'no show' but still leave marks on your clothes.  The dryer bar reminded me of a deodorant stick, and I didn't want residue left behind, or marks on the clothes. 
My skepticism was proven wrong.  It actually does work, and there is no residue left behind, nor did any of the clothes get streaks or marks left on them.  Instead, they were static free and had a fresh scent, though not as strong as the scent you get from dryer sheets.  Which works out very well for the boys' clothes, since I'm sure the hubby would rather his clothes didn't smell 'pretty'.  The dryer bar makes laundry one step easier (though I must confess, I do still add a dryer sheet to mine and Princess Nagger's loads, since we do like our clothes to smell extra pretty.)
Which brings me to this weeks question(s):

Do you use fabric softener or dryer sheets in your laundry? If so, what's your favorite brand or scent?
Have a great weekend!
.
Link up if you like – that way I can visit you easily, especially if you're a new follower (just please oh please leave a comment when you do!). You can be participating in any (or none) of the hops listed below – it's a Free-For-All!

Mister Linky's Magical Widgets — Auto-Linky widget will appear right here!
This preview will disappear when the widget is displayed on your site.
For best results, use HTML mode to edit this section of the post.
.
Happy Aloha Friday!
.
In Hawaii, Aloha Friday is the day that we take it easy and look forward to the weekend. So on Fridays let's take it easy on posting, too. Ask a

simple

question…nothing that requires a lengthy response. It's a great way to make new blogging friends!
Follow Friday 40 and Over
.
Follow Friday 40 and Over is Back! There are a lot of fabulous bloggers who are 40, so I'm participating in Follow Friday 40 and Over – please be sure to leave a link to your blog so I can come check out your site and follow you, too!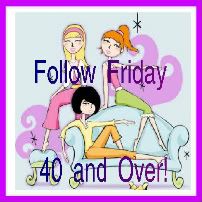 .
.
.
Note:  Part of this post was written for the Bounce Sampling Program by way of BlogHer and P&G, since they so generously sent me a free Bounce Dryer Bar.  No compensation was given or received, aside from the free bar to try out and give them my thoughts.  Obviously all thoughts are strictly my own with no outside influence by any means of any sort.  Except for feedback from the hubby, who thanked me for not making his clothes smell too 'pretty'. See my Disclosure Policy here.