Since I was feeling like I'd been hit by a Mac truck Sunday and Monday, I decided not to wait and see if my regular doctor could squeeze me in, since an Express Care opened not too far from our house. 
Which ultimately took longer than if I had waited to go see my regular doctor because the woman at the front desk was confused by me telling her several times that the outstanding balance needed to be resubmitted to the insurance company – not because she asked me to pay the outstanding balance, but because I was the one who mentioned it. 
I should have kept my big mouth shut.  
Selective Hearing Lady (SHL):  "How May I help you?"
Me:  "I have a raging sinus infection that will be needing antibiotics."
SHL:  "OK, have you been here before?"
Me:  "Yes, sometime last winter for my last sinus infection."
SHL:  "Name and birth-date?"
Me:  "Blah, blah, blah.  Oh, and there might be a balance on our account unless my hubby paid it.  If there is a balance, it needs to be resubmitted to the insurance company since they had their wires crossed about the fact we have no other insurance, just them.  Basically, any balance on our account needs to be resubmitted to the insurance company.  Please and Thank You."
Apparently what the woman heard was:
"Blah, blah, blah, I'd like to pay my outstanding balance, please."
I can see how she got that, can't you?  Which of course threw her into a tizzy, because she apparently didn't know how to let someone pay their outstanding balance and had to make three different phone calls to find out what to do.  At one point I heard her say she has a patient that wants to pay the balance on their account, so I spoke up and said (again) that it needs to be submitted to the insurance company.  Selective Hearing didn't hear me.
There was not a single solitary other soul in the waiting room, and I stood at the reception window for a good 20 minutes while she was making her flurry of phone calls.  I was willing my head to please explode now feeling worse by the minute, and finally took a page from Drama Queen Princess Nagger's book and leaned down in front of the window, resting my weary and pounding head on the shelf-ledge-thingy.
Since that wasn't all that comfortable, I moved to the nearest chair and sat down instead.  About 5 minutes later I heard:
"Ma'am?  Ma'am?"
The hackles raising on the back of my neck didn't alleviate the pounding in my head.  In case you were wondering.  I thought "At last!  She's finally going to get me in to see a medical professional so I can get the heck out of here!"
But I was wrong.
Instead she asked "How are you going to pay that today?  Cash?  Check?"
Me:  "Pay what?"
SHL:  "The outstanding balance?"
Me:  "I'm not paying that today – it needs to be resubmitted to the insurance company so they'll pay it.  I just need to get this sinus infection taken care of."
SHL:  "Oh."  She looked confused for a minute, then muttered into the phone still planted to her ear: "Never mind, I guess I don't need you."
When I finally was called in to see the doctor, my blood pressure reading was a little high for their liking.  You think?  But after I finally actually did see the doctor and had a chat with her about my sinuses betraying me twice a year and which antibiotic works for me, my blood pressure was re-checked before leaving – it was back down to 'normal'. 
When it was all said and done, the 'express' care took just over an hour.  About the same amount of time it takes at my regular doctor's office with all the hurry-up-and-wait moments.
"Express" must mean something different in the Small Town.
Which brings me to this weeks question(s):

Do you have some sort of 'Express Care' in your area?  If so, do you use them for the convenience of getting a cold or flu bug taken care of, or do you prefer to see your regular/family doctor?
Have a great weekend!
Link up if you like – that way I can visit you easily, especially if you're a new follower. You can be participating in any (or none) of the hops listed below – it's a Free-For-All! (Just please oh please leave a comment when you do!) I'm also a little behind on following everyone that has followed me the last week or so – a gentle reminder is always a good thing, and I'll definitely be doing some major catch-up when my head is less foggy than it currently is.

Mister Linky's Magical Widgets — Auto-Linky widget will appear right here!
This preview will disappear when the widget is displayed on your site.
For best results, use HTML mode to edit this section of the post.
.
.
In Hawaii, Aloha Friday is the day that we take it easy and look forward to the weekend. So on Fridays let's take it easy on posting, too. Ask a simple question…nothing that requires a lengthy response. It's a great way to make new blogging friends!
Hosted by Self Segacity, It's easy to join Thursday Two Questions Meme. 1) Post your own two questions on your blog, 2) Have a link or badge on your post to Self Sagacity.com
.
Follow Friday 40 and Over is Back! There are a lot of fabulous bloggers who are 40, so I'm participating in Follow Friday 40 and Over – please be sure to leave a link to your blog so I can come check out your site and follow you, too!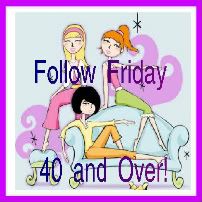 More Friday Follow Fun
.
.
.