Tuesday how I love thee – I'm able to collect my scatterbrained thoughts in one giant brain dump.  It's actually a lot more fun than that sounds, though.  Trust me.  We're still rebelling while Keely is still hiatus-ing, if you have a smorgasbord in your brain and want to let it out, c'mon and join in the fun!  Rebel On!
(Note: Right-click still isn't working on my page, so after you highlight the code, simply CTRL-C to copy, CTRL-V to paste. Email me if you're having trouble)
Our local Target went through a reorganization/expansion and added a grocery section to our regular Target store.  Princess Nagger and I decided we'd do the half of our bi-monthly grocery shopping there instead of the normal trip to Wal*Mart on Friday.   Not sure what was in the air, but it must have been Snobs and Snoots day that day – every single person we passed had their noses in the air and refused to return the smile that we are so quick to give.  I was starting to get a complex, thinking maybe I had sprouted a third eye in the middle of my forehead or Princess Nagger had actually turned into one of the dinosaurs she likes to pretend she is.
Or maybe it was just the ginormous unwieldy shopping cart we were barreling around in – you know the one, with the kid constraints attached to the back – I was the only one pushing one of those monstrosities around, rather than let Princess Nagger run amok in the store while we shopped.  At least we got a way cool cashier on the way out who not only returned our smiles, but even got my jokes.
Since Target doesn't stock Vanilla Coke (at all) or the brand of dog food I get for our beasts, not sure we'll be making it a regular thing.  Though I did like using my Target debit card and getting a 5% discount on the groceries I did get, since everything seems to have gone up since we've been on vacation.  Just not sure I want to make my bi-monthly marathon grocery shopping span 3 or more stores (since I'd have to go to Wal*Mart to get the things they carry that Target and BJ's don't).  I did send a message to Target Corporate (per the store manager's suggestion), we'll see if they really do listen to their customers.
Speaking of shopping, I did follow the hubby's lead and get my new glasses at Sears.  That was an event all by itself – not the eye exam or anything, since it was nice to see that my eyesight hasn't made any changes in over 10 years, but the actually getting the glasses – especially since it was right before vacation and I really wanted to have a 'fresh' pair since my old pair prescription was wrong (no wonder I kept getting headaches at random – the left eye was too strong!)  Getting the optical department to answer their phones was a joke – because they never answered them.   I finally got a response by asking for the manager at the switchboard, who walked his cordless phone over to the optical department to put someone on the phone.
Except that my glasses didn't get there until the day before we left on vacation – which was about 20 days after they were ordered…obviously not within the 7-10 days as promised.  And of course the prescription is all wonky – I have to hold my head at a certain angle to make sure I get the 'clear' spot…the rest of the lens is fuzzy.  ACK.  So I'm mustering up the courage to go back and have them redo them – because they not only screwed up my glasses, but the prescription sunglasses I ordered at the same time.  Wonder if I'll get them back (corrected) by the end of summer?  We'll see.  Meanwhile I doubt I'll be making a return trip to Sears for my glasses needs in the future.  I'm just sayin'.
Sheesh, this RTT is becoming a bitch-fest isn't it?  Sorry about that.  Let's see – what are some happy or funny randomness to spout?  Oh, I know!  We've been being extra careful about not letting the cats get out of the house, since they have the propensity of catching birds randomly – and leaving them as a 'gift' on the back porch.  I know!  Ewwww!  Not to mention the latest one, caught by our clawless cat, mind you, was half eaten!  Bigger EWWWWW!   And no, I didn't have the heart to take a picture of the sad carcasses to share with you – aren't you glad?  Link has been relegated to the Summer House since Zelda is queen of the house (and gets annoyed by him), so now he has taken up the habit of trying to get my attention by walking right in front of my face while I'm trying to type.  Like now.  I guess he wanted to make sure I'm showing him in a good light.
Princess Nagger had an unconventional play date with her BFF yesterday – wholly on the phone.  For a majority of the day.  Apparently her BFF needed to clean her room and get a haircut, so PN couldn't go over there to play, so they 'played' on the phone instead – they watched TV together, had lunch together, and even played on the computer together, all on the phone.  Pretty creative, right?  At least she's doing a 'live' playdate today, so she's been excited all night to finally get to see her BFF after being gone so long on vacation.  Oh, and she's correcting me on the BFF thing – apparently it's BFFL – Best Friends For Life.  I stand corrected – no, wait, I sit corrected.
I think that's about enough random for this week – sorry about the lack of pictures, I'm a little behind on getting them organized!  Feel free to be a rebel with me and get your random on! Join in the fun – link up and check out the other randomness going on today!
I'm also participating in Follow Me Back Tuesday – if you are a new Follower, please be sure to leave a link so I can follow you back!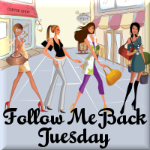 .
Once again I'm hopping aboard this fun friendly train – if you're traveling on the train, be sure to leave your link so I can follow you back!
I'm also joining Hop a Little Tuesday – Blog Hop for Moms: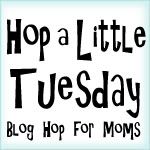 And here's another fun one, Tiggerific Tuesday! Blog Hop…or Bounce!