Can you believe it's already the middle of July?  Where in the world is the summer going so fast?  We got back from vacation Sunday night, and it's taken me all week to get back to 'normal' around here.  Well, OK, not quite there, but I'm getting there.   Why is it that the weeds seem to grow even faster when you're gone?  I suppose it's just because you're not here to yank them as youngsters, and they relish in the freedom of growth and go wild.  It's been way too hot to spend a lot of time outside – Mother Nature is still off her meds and seemingly in a prolonged hot flash episode.
Hot, Humid and Sticky does not allow for Princess Nagger's usual Dinosaur Games out in the backyard – so she's been spending an inordinate amount of time on YouTube watching funny dinosaur videos, and watching the Annoying Orange.  And oh boy, is that annoying.  At least she does alternate her boredom time trying to stay cool by reading lots of books – glad to see that she's inherited the bookworm mode from me. 
Which brings me to this week's question(s):
What's the weather like in your neck of the woods?  What do you do to keep the boredom at bay when you can't go outside to play?
Have a great weekend!
Before you go, Princess Nagger insists (with a please) that you watch her video and leave a comment for her (and potentially win 2 bags of Sugar Free Ring Pops):
Sugar Free Ring Pops Giveaway
ends 07/18/11 11:59pm EDT
Link up if you like – that way I can visit you easily, especially if you're a new follower. You can be participating in any (or none) of the hops listed below – it's a Free-For-All!
.
Happy Aloha Friday!
.
In Hawaii, Aloha Friday is the day that we take it easy and look forward to the weekend. So on Fridays let's take it easy on posting, too. Ask a simple question…nothing that requires a lengthy response. It's a great way to make new blogging friends!
Thursday Two Questions (on Friday!)
Hosted by Self Segacity, It's easy to join Thursday Two Questions Meme. 1) Post your own two questions on your blog, 2) Have a link or badge on your post to Self Sagacity.com
Follow Friday 40 and Over
.
There are a lot of fabulous bloggers who are 40, so I'm participating in Follow Friday 40 and Over – please be sure to leave a link to your blog so I can come check out your site and follow you, too!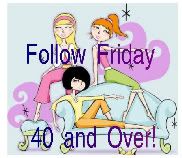 More Friday Follow Fun
.