For some, Facebook is like an addiction.  Some people spend hours and hours on it, playing games, adding status updates, generally enjoying the time suck it can be.  I'm not a big Facebook playah, but I have been trying to find time to at least do more than take the easy way out of having my blog posts automatically updated with no effort from me required at all.  While I still haven't embraced the whole status update mode, I have started clicking that handy dandy 'like' button on other people's status, and tried to make time to wish people a happy birthday on their wall.  I'll get there – probably not as rabid as some, but at least more interactive than I currently am.
Princess Nagger had two of her BFF's come over the other day for a play date – loud, shrieking girls having fun running all over the house and backyard – you'd think there were more than just three of them.  It sounded like an army of 8 and 9 year olds.  And then the inevitable – the talk about Facebook, and how the other two girls have their own pages, but Princess Nagger did not.  About how much fun they have on Facebook, and what cool games there are to play, not to mention the chat mode.  Oh boy.
I had previously managed to dissuade Princess Nagger from even contemplating Facebook – after all, she's too young.  There is a minimum age requirement, is there not?  So when she came with her pleading big puppy dog baby blues asking if she could Pretty Please have a Facebook page so she could interact with her BFF's when they're not together playing, I tried to pull the age card.  Didn't work.  The other two girls bypassed that scenario by putting in a date that would allow them to join up – with their mother's permission.  So I decided to defer to the hubby, let him be the 'bad guy' by saying that dreaded word, 'No'.  Only he didn't.  Instead, he said "Sure!  I can help you set one up if you want."  So much for him being the bad guy.
So Princess Nagger skipped merrily into the house to fetch her laptop and seek our assistance for getting her all set up and ready to connect in safety mode with her friends and have as much fun as they've been having.  We didn't hear from her for over an hour – we figured that in typical Princess Nagger style she had been distracted by something else.  Apparently not.  The intercom rang and I picked it up, and her sweet little voice said, "I got my Facebook page all set up, should I use one of my baby pictures for my profile picture?"  GAH!  Not only had she not followed the 'rules' for safety, she had her BFF help her via phone to get set up.  Revealing all her personal details.  Not cool.
I walked her through the steps to disable that account, and then I set up a new email account and Facebook page for her – making it ultra ultra private (or as 'private' as something like that can be when you're talking about the interwebs).  I sent a friend Request to both me and my hubby, and one to each of her BFF's.  Reluctantly doing so, I might add.  And the clincher?  She gave me a hug and said  "You're the best mom, ever.  Thanks for setting up my Facebook page.  Face it, Mama – I am growing up, you know."  Just stick a knife through my heart, willya?
Which brings me to this week's question(s):
If your kids are not yet 'Facebook Age', will you let them have limited access when they get to be about 8 or 9, or do you think that's too young?  Do you check out your kids Facebook pages (or will you when they're old enough to have one) on a regular basis? (like I'll be doing with PN – because dammit, 8 is too young!)
Have a great weekend!
Link up if you like – that way I can visit you easily, especially if you're a new follower. You can be participating in any (or none) of the hops listed below – it's a Free-For-All!
.
Happy Aloha Friday!
.
In Hawaii, Aloha Friday is the day that we take it easy and look forward to the weekend. So on Fridays let's take it easy on posting, too. Ask a simple question…nothing that requires a lengthy response. It's a great way to make new blogging friends!
Thursday Two Questions (on Friday!)
Hosted by Self Segacity, It's easy to join Thursday Two Questions Meme. 1) Post your own two questions on your blog, 2) Have a link or badge on your post to Self Sagacity.com
Follow Friday 40 and Over
.
There are a lot of fabulous bloggers who are 40, so I'm participating in Follow Friday 40 and Over – please be sure to leave a link to your blog so I can come check out your site and follow you, too!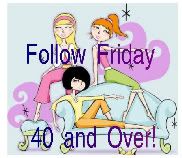 More Friday Follow Fun
.