My mom is considered 'Legally Blind' – she has to get within inches of the big "E" on a vision chart before it comes into focus.  Which, of course, means us kids were 'blessed' with bad eyesight as well.  I'm lucky, though, I favor more towards my dad's clear vision – his only issue is a astigmatism that doesn't warrant him having to wear glasses every minute of the day.  My brother and sister started wearing glasses when we were kids – I got lucky and didn't have to wear them until my senior year in high school.  Even then I really didn't like the frames my mom picked out for me (um, purple, Mom??) so I'd wear them when I left the house, but take them off as soon as any of my friends came into view.
After I moved out of my parents house, I still abandoned my funky frames for slightly blurry vision until with my first corporate job came vision coverage.  I decided maybe squinting wasn't the way to go, so I got my first pair of contacts.  It was like discovering a whole new world the first time I went shopping – I hadn't realized how bad my vision had gotten until after I got my contacts and marveled that I was actually able to read the signs above the aisles with no effort whatsoever.   And no squinting.
I only wore my glasses at night to give my eyes a rest, and my eyesight didn't change for over 10 years – which meant I didn't update my glasses frames for that long, either.  Which of course instigated some teasing by my co-workers when I had to wear my glasses to work one day because I had a sinus infection and no way was I going to be able to handle sticking contacts on my eyeballs that morning.
Since then I've of course upgraded – and gone from plastic frames to wire frames to frame-less frames.   When I was pregnant with Princess Nagger, the combination of the horrible Pennsylvania air quality coupled with the normal dry-eye side effect of pregnancy caused me to ditch my contacts altogether in lieu of fashionably stylish glasses – with transition lenses, of course.
I realized recently that my most recent glasses are now two years old – and they don't have transition lenses, since I'd been gifted them for a review, so I've been having to swap them out with my prescription sunglasses (which are about 5 years old, but still the same prescription – just definitely not 'stylish' mode) which can be a real pain to constantly do.  So today I get to have an eye doctor get uncomfortably close to my face as he peers into my eyeballs so I can pick out a new stylish pair of glasses and not have to do the old switcharoo any more.
I'll also pick up a new box of contacts, because I do like to wear them when we go out – for some reason they make my eyes feel less 'tired', probably from all those years of only wearing glasses when I'm relaxing after a long day at work and am tired.  One of these days I'll probably follow my brother and sister's lead and get Lasik surgery done (when and if the budget allows it) so I can forgo the annoyance that glasses and/or contacts can be.  For now, I'll choose wisely – Princess Nagger is looking forward to helping me pick out my new frames – wish me luck, I'm just glad they don't have dinosaur frames.
Which brings me to this week's question(s):
Do you have perfect eyesight, or do you wear contacts or glasses?  Near sighted or far sighted?
Have a great weekend!
Link up if you like – that way I can visit you easily, especially if you're a new follower. You can be participating in any (or none) of the hops listed below – it's a Free-For-All!
.
Happy Aloha Friday!
.
In Hawaii, Aloha

Friday

is the day that we take it easy and look forward to the weekend. So on Fridays let's take it easy on posting, too. Ask a simple question…nothing that requires a lengthy response. It's a great way to make new blogging friends!
Thursday Two Questions (on Friday!)
Hosted by Self Segacity, It's easy to join Thursday Two Questions Meme. 1) Post your own two questions on your blog, 2) Have a link or badge on your post to Self Sagacity.com
Follow Friday 40 and Over
.
There are a lot of fabulous bloggers who are 40, so I'm participating in Follow Friday 40 and Over – please be sure to leave a link to your blog so I can come check out your site and follow you, too!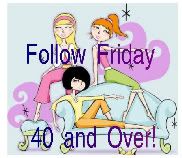 More Friday Follow Fun
.
I'm also joining in on "Stalk Hop Friday" hosted by Mrs. Marine and the Tiny Troops, and Novel Bloggers! This one is a little different from the usual, instead of just following on Google Friend Connect (GFC), you can pick and choose which way you want to stalk follow blogs. Be sure to leave a link in your comment so I can follow you back!
Welcome to
"Stalk Hop Friday"!
Blog hops are a great way to gain more followers! This hop follows in EVERY way: Google Friend Connect, Facebook, Twitter, Feed, Blog Frog, Networked Blogs! "Stalk Me" and I will return the favor!