School's out (at least for Princess Nagger) summer is here (based on the hot, humid and sticky weather Mother Nature has been hitting us with) so let the fun begin!  I have some catching up to do – along with the hot, humid and sticky weather we've been suffering through, we've had random severe thunderstorms and tornado warnings – which, for where we're at in PA, is a rarity.  My heart goes out to all those that have actually had a tornado, including the shocker of Massachusetts the other day.
The worst part of our crazy weather patterns is that the internet has been spotty at best the past couple of days, putting me way behind on my blog-hopping and commenting.  Luckily it looks like Mother Nature has finally mellowed out a bit, and we'll not only get decent (and tolerable) weather, but she won't be messing with our internet.  Fingers crossed.
Now that Princess Nagger is done with school for the summer, it's time to start making some plans.  The biggest of which is our return trip to Iowa for some R&R and fun with my sister and her family.  My parents are actually making the long drive out from Seattle at the same time, so we'll have some quality time to spend with them in Corn Country, too.
We're lucky that Princess Nagger is such a good traveler – we joke about thinking we've left her at home she's so quiet in the backseat.  She rarely watches the DVD player we bring along, she much prefers to watch the scenery go by outside the windows.  This year we'll be traveling without our dogs, only because my parents have priority and they're bringing their little Shitzu with them on their trip, and between their dog and my sister's two cats, we figured we'd lessen the anxiety of the animals by letting our dogs party it up at our house with a house/dog sitter instead.
Since we won't have the dogs with us, that actually gives us a little more freedom for the road-trip part of our trip.  Princess Nagger is excited that we'll be stopping in Columbus, Ohio on the way to Iowa, since the COSI Science Center there is having a huge (and cool) dinosaur exhibit this summer:
You know Princess Nagger is going to love that pit-stop.  We'll probably be hard pressed to get her out of there when it's time to go.  At least that means she won't be lollygagging the morning we depart (she tends to be a late sleeper) so we'll be able to get on the road really early that day.  The 'bribery' to get her to get up and moving that morning will be the sooner we leave, the more time we'll have at the dinosaur exhibit.  And since the dogs won't be with us, that also means less stops along the way which tends to extend the estimated travel time from Point A to Point B.
My sister is already brainstorming on what fun things we'll be doing whilst in Iowa – we're looking forward not only to the time spent with family, but some fun days as well.  Which brings me to this week's question(s):
Do you have any fun vacations planned for this summer? If so, are you doing a road trip or flying to where you're going?
Have a great weekend!
Link up if you like – that way I can visit you easily, especially if you're a new follower. You can be participating in any (or none) of the hops listed below – it's a Free-For-All!
.
.
In Hawaii, Aloha Friday is the day that we take it easy and look forward to the weekend. So on Fridays let's take it easy on posting, too. Ask a simple question…nothing that requires a lengthy response. It's a great way to make new blogging friends!
Thursday Two Questions (on Friday!)
Hosted by Self Segacity, It's easy to join Thursday Two Questions Meme. 1) Post your own two questions on your blog, 2) Have a link or badge on your post to Self Sagacity.com
.
There are a lot of fabulous bloggers who are 40, so I'm participating in Follow Friday 40 and Over – please be sure to leave a link to your blog so I can come check out your site and follow you, too!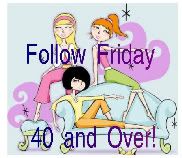 More Friday Follow Fun
.
I'm also joining in on "Stalk Hop Friday" hosted by Mrs. Marine and the Tiny Troops, and Novel Bloggers! This one is a little different from the usual, instead of just following on Google Friend Connect (GFC), you can pick and choose which way you want to stalk follow blogs. Be sure to leave a link in your comment so I can follow you back!
Welcome to
"Stalk Hop Friday"!
Blog hops are a great way to gain more followers! This hop follows in EVERY way: Google Friend Connect, Facebook, Twitter, Feed, Blog Frog, Networked Blogs! "Stalk Me" and I will return the favor!