Thirteen weeks and the rebellion is still going strong!  Well, you my fellow rebelers are still going strong, me not so much.  The last couple of weeks I've been up to my eyeballs in unbloggable awesomeness, so I've been away from my computer more than I've been at it.
I broke my promise to you last week – I was overconfident that the top-to-bottom house organization/cleaning moving furniture craziness would be done early enough for me to hang out on my computer and get some blog-hopping happening.  Boy was I wrong.  I sincerely apologize.  The good news is that the grunt work is now pretty much done, so I can resume regular fun while we're in the 'hurry-up-and-wait' mode.
Speaking of 'hurry-up-and-wait', Keely is still hiatus-ing, but we're pressing on in rebellious mode in her honor.  Rebel On!
(Note: Right-click still isn't working on my page, so after you highlight the code, simply CTRL-C to copy. Email me if you're having trouble)
Along with the (good, not bad) unbloggable we've been dealing with, remember hubby came down with shingles last week?  So along with the hectic house reorganization/cleaning/etc. we had to do, hubby was home from work all week long.  He of course couldn't help much being that he was to rest and all, but in between him resting throughout the week, me getting what I needed to get done was slow going.
I don't know what it is about husbands being home from work (especially when they're sick) that tends to create massive delays in ordinary day-to-day stuff and getting things done, but it's true.  I never understood why my mom always mentioned she never was able to get things done when my dad was home from work – now I totally understand.  Anyone else seem to have that problem? He was feeling better by Sunday, though, and he was a major superstar getting a lot done, including repainting the powder room to the color I really wanted it to be – a wine color, of course!  I haven't taken pictures yet, but that will happen very soon.

My brain is so foggy from lack of sleep for the last couple of weeks, I'm finding it hard to formulate coherent thoughts.  If you could see me right now, you'd probably notice the foggy haze surrounding me right about now.  I'll try to stay alert – or at least stay awake.  Mostly.
Remember we were thinking we'd have to race my parents for my sister's basement for our vacation?  My parents have generously agreed that we should get the basement since there's three of us and only two of them.  Not to mention the bedroom they'll be staying in is right across the hall from the bathroom – the basement has no bathroom (yet), so there'd be steps to navigate in the dead of night.  We can manage – we're younger than my parents and can handle the steps (she said with a snicker).
Random Conversation with Princess Nagger:
PN:  "Where is my birth certificate, anyway?"
Me:  "I don't know, I'm going to have to find it."
PN:  "Yeah, you probably needed it to prove I was here or something."
That's it for this week – feel free to be a rebel with me and get your random on! Join in the fun – link up and thanks to all you diligent rebels out there!
.
I'm also participating in Follow Me Back Tuesday – if you are a new Follower, please be sure to leave a link so I can follow you back!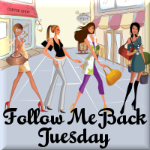 .
Once again I'm hopping aboard this fun friendly train – if you're traveling on the train, be sure to leave your link so I can follow you back!
I'm also joining Hop a Little Tuesday – Blog Hop for Moms: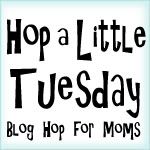 And here's another fun one, Tiggerific Tuesday! Blog Hop…or Bounce!