Today is the last Friday of May – summer is right around the corner!   Of course you'd think Mother Nature got the wrong memo – she's been sending us summer weather all week long…hot, humid and sticky.  I don't mind the heat, it's the humidity I could do without.  With this being Memorial Day weekend, I'm sure a lot of people plan to do something fun – whether it be doing a cook-out or camping for the weekend.  Which still means a cook-out, because well, you're camping out.
Growing up, since my parents were very young with four kids and obviously didn't have a lot of money, instead of going on big vacation trips like other families we knew, we'd spend my dad's vacation time camping.  We'd spend at least a week-and-a-half camping in the mountains, and a week-and-a-half camping at the ocean.  An easy choice between the two, considering either is only a day drive from the Seattle area.
I have wonderful memories of those camping trips – my dad would always load up our bikes so we could roam freely through whatever campground we landed at for our adventure.  We even have old home movies of us camping very young – my older sister had advanced to a two-wheeler with training wheels while I still had a trike; my dad tied cardboard boxes to the back of our bikes and we'd drag them around picking up dry wood or kindling for a great campfire.  Campfires were (and are) a favorite part of the whole camping experience.  So much fun to cook over, particularly if you're talking about S'mores.
My dad bought a trailer that he customized but only had two beds in it – the table would convert into a bed for my parents, and us four kids would sleep on the upper bunk cross-ways, all in a row.  When we got too big to fit, we started bringing along an old Army tent from my grandpa that was relegated as the kid-tent.  Which would get hot and musty on the hot summer days when we were camping at the ocean.
My grandparents from both sides would sometimes tag along, as would various aunts and uncles, and family friends.  Fun times.  My maternal grandparents always brought a camper on the back of their pickup truck – if it was too hot or if it happened to be raining, my grandmother would invite me into the camper to play cards with her.  She taught me how to play Hearts and even Gin Rummy – and always let me win.
When we camped in the mountains, we'd divide our time between riding our bikes, hiking, fishing in the river for a fresh fish dinner, or floating down the river on innertubes on particularly hot days.  The river was appropriately named "Bumping River" – my brother even lost his glasses during one exceptionally bumpy ride down that river.  At the ocean, we'd ride our bikes on the beach, jump in the (cold) waves, and fish off a jetty.  It was all so simple and absolutely relaxing.
As we got older, us kids would continue to camp, especially on the long holiday weekends.  Memorial Day weekend was always an adventure – Seattle area?  Of course it tended to rain every Memorial Day and Labor Day weekends.  Pretty much every holiday that we decided we'd be camping.  Murphy's Law.  But we didn't let a little rain dampen our enthusiasm, we'd just go for it.  And bring lots of alcohol.  You know, because we were in our 20's, and we didn't camp with our parents anymore because that would be lame.
Hubby's idea of 'roughing it' is finding a motel somewhere in the boondocks.  I'm still working on convincing him that camping can be fun, and would be a great experience for Princess Nagger and give her some amazing memories, too.  Besides, with all the cool (read: modern) camping equipment, it doesn't have to be 'roughing it' – I tend to go a little overboard by planning and cooking gourmet meals on a cook stove rather than just hot dogs over the campfire.  Though hot dogs over the campfire are definitely on the menu, too.  And S'mores.  Lots and lots of S'mores.  Hopefully this year he'll acquiesce and take the plunge into getting back to nature.  We'll see.
Which brings me to this week's question(s):
Do you like to camp?  If so, what are your favorite camping places or memories?  If not, is your idea of 'roughing it' just like my hubby's?
Have a great weekend!
Link up if you like – that way I can visit you easily, especially if you're a new follower. You can be participating in any (or none) of the hops listed below – it's a Free-For-All!
.
Happy Aloha Friday!
.
In Hawaii,

Aloha Friday

is the day that we take it easy and look forward to the weekend. So on Fridays let's take it easy on posting, too. Ask a simple question…nothing that requires a lengthy response. It's a great way to make new blogging friends!
Thursday Two Questions (on Friday!)
Hosted by Self Segacity, It's easy to join Thursday Two Questions Meme. 1) Post your own two questions on your blog, 2) Have a link or badge on your post to Self Sagacity.com
Follow Friday 40 and Over
.
There are a lot of fabulous bloggers who are 40, so I'm participating in Follow Friday 40 and Over – please be sure to leave a link to your blog so I can come check out your site and follow you, too!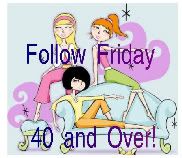 More Friday Follow Fun
.
I'm also joining in on "Stalk Hop Friday" hosted by Mrs. Marine and the Tiny Troops, and Novel Bloggers! This one is a little different from the usual, instead of just following on Google Friend Connect (GFC), you can pick and choose which way you want to stalk follow blogs. Be sure to leave a link in your comment so I can follow you back!
Welcome to
"Stalk Hop Friday"!
Blog hops are a great way to gain more followers! This hop follows in EVERY way: Google Friend Connect, Facebook, Twitter, Feed, Blog Frog, Networked Blogs! "Stalk Me" and I will return the favor!