As the school year starts to wind down, plans are being made for the summer break.  If you were to ask Princess Nagger what that meant, she'd enthusiastically say that it means many days of playdates with her BFF.  She'd play over there every day if she could, or have her BFF over here on a daily basis.  Or alternate every-other-day.  Just as long as she can see her every day.

With only 7-1/2 school days left of the year, she already has planned what she calls a 'double sleep-over' this weekend (what she considers the first of many) – she'll go to her BFF's house Saturday night, and when we go pick her up, her BFF will return with her, and do a sleepover over here Sunday night.  She'll get ready for school and ride the bus with Princess Nagger on Monday morning.
With Princess Nagger gone most of the day Saturday, we'll more than likely be able to get the house nice and clean since there won't be the mini-tornado messing things up in our wake.  Which will then be completely messed up on Sunday when both girls will enact their tornado ways effectively.
It will be interesting to see if they're able to fall asleep at a reasonable time on Sunday night – after all, it is a school night.  Wish us luck.
Which brings me to this week's question(s):
Do/did your kids have regular playdates and/or do sleep overs (almost every weekend)?  How do you keep the house clean (and hold on to your sanity)?
Have a great weekend!
Link up if you like – that way I can visit you easily, especially if you're a new follower. You can be participating in any (or none) of the hops listed below – it's a Free-For-All!
.
Happy Aloha Friday!
.
Thursday Two Questions (on Friday!)
Hosted by Self Segacity, It's easy to join Thursday Two Questions Meme. 1) Post your own two questions on your blog, 2) Have a link or badge on your post to Self Sagacity.com
Follow Friday 40 and Over
.
There are a lot of fabulous bloggers who are 40, so I'm participating in Follow Friday 40 and Over – please be sure to leave a link to your blog so I can come check out your site and follow you, too!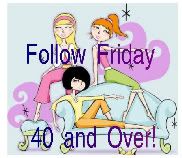 More Friday Follow Fun
.