Mother's Day is Sunday – where is the year going??  That's right, I keep forgetting not to blink.  It's been an interesting process to get the hubby to understand that Mother's Day isn't the sole responsibility of young children to make the day special for the mother of his child.
Last year I wrote about it for the Spin Cycle (oh how I miss the Spin Cycle – Jen?  Will it be coming back?  Please?) about how Mr. Literal Man thought he shouldn't be the one to make that day special, since I'm not his mother.  Ahem. But he did come through in the clutch, and it was special.  He's been having Princess Nagger ask me what I want for Mother's Day, so I'm assuming he's making plans.
I hope.
I do know that we'll be ordering dinner from our favorite family owned Italian restaurant for him to pick up and we can eat here (away from the crush of crazy people – we tend to avoid going out to eat on actual holidays since it's just pure craziness), and Princess Nagger has already let slip she made some special art projects in school she'll be bringing home today.  Those are always my favorite.  At this point, the only actual plans we have is to do sweet nothing – just kick back and have a nice relaxing day.
Which brings me to this week's question(s):
Are you doing anything fun or special for Mother's Day?  If your kids are young (or when they were young) did your spouse or significant other handle the 'special' part?
Have a great weekend – and Happy Mother's Day!
Link up if you like – that way I can visit you easily, especially if you're a new follower. You can be participating in any (or none) of the hops listed below – it's a Free-For-All!
.
Happy Aloha Friday!
.
In Hawaii, Aloha Friday is the day that we take it easy and look forward to the weekend. So on Fridays let's take it

easy

on posting, too. Ask a simple question…nothing that requires a lengthy response. It's a great way to make new blogging friends!
Thursday Two Questions (on Friday!)
Hosted by Self Segacity, It's easy to join Thursday Two Questions Meme. 1) Post your own two questions on your blog, 2) Have a link or badge on your post to Self Sagacity.com
Follow Friday 40 and Over
.
There are a lot of fabulous bloggers who are 40, so I'm participating in Follow Friday 40 and Over – please be sure to leave a link to your blog so I can come check out your site and follow you, too!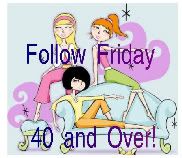 .
I'm also joining in on "Stalk Hop Friday" hosted by Mrs. Marine and the Tiny Troops, and Novel Bloggers! This one is a little different from the usual, instead of just following on Google Friend Connect (GFC), you can pick and choose which way you want to stalk follow blogs. Be sure to leave a link in your comment so I can follow you back!
Welcome to
"Stalk Hop Friday"!
Blog hops are a great way to gain more followers! This hop follows in EVERY way: Google Friend Connect, Facebook, Twitter, Feed, Blog Frog, Networked Blogs! "Stalk Me" and I will return the favor!
More Friday Follow Fun!