Here we are, still plugging along in rebel mode for the seventh week – and judging by Keely's last post about how her new co-workers read her blog eliminating juicy tales to tattle, the hiatus may last quite a bit longer.  My cartoon me is really getting anxious for the queen to retake her leading role for RTT, though if it lasts as long as 6 months, the Queen Keely may just have to wrestle the sign (and maybe the crown – might have to add that too just for grins) from my cartoon me.  Maybe my cartoon me can be adjusted to have both the sign and a glass of wine in play.  Meanwhile, join in the rebellious mode, won't you?
(Note: For some reason right-click isn't working on my page, so when you highlight the code, simply CTRL-C to copy. Email me if you're having trouble)
Mother Nature seems like she's finally gotten her meds squared away – we were blessed with amazing actual spring weather (as opposed to the radical winter/summer/winter mode we've been experiencing) over the weekend, and it looks like it's going to keep to that pattern all week!  Poor hubby was a bit misled by Princess Nagger before he went out to do his shopping for Mother's Day – she told him I wanted a new chair since my desk was raised to accommodate my wine fridge and I'm typing at an awkward angle.  When I planted the bug a few weeks ago to have PN tell the hubby what I really wanted, she apparently didn't retain that information.
While hubby was gone shopping, she spilled the beans telling me what she told him I wanted.  When I reminded her that my short list was Obsession perfume (the original – not the new spawns of it) and an iPad, she then remembered that's what I had told her previously.  As soon as the hubby got home from his shopping trip, she waylaid him and told him what I really wanted…of course he had a new chair sitting in his car.  Ooops!  He went out later and returned the chair (even though he didn't have to), but then came home and told me I was going to need to tell him specifically which iPad I wanted – since he actually was going to get that for me for Mother's Day.
He was overwhelmed with the many choices, since there are other manufacturer's that are jumping on the iPad bandwagon.  So I hopped online to do some research – and understood the overwhelming factor.  There are so many different ones claiming the be the 'best' – though iPad2 seemed to be the front runner.  Until I checked out Samsung's pending release of their own version, the Galaxy Tab 10.1:
Since we love our new Android phones by Samsung, the new Galaxy Tab 10.1 seems like it would be the perfect choice.  Even though I'll have to wait until at least June 8th (when they're supposed to be released) to get my Mother's Day present, I certainly don't mind.  I think it's awfully sweet of the hubby to want to get it for me, and for being ultra patient about the whole chair confusion.
Oh lordy!  Reading back what I've written so far sounds like I'm advertising for Samsung – I'm not.
Princess Nagger only has three weeks of school left before summer break – she can't wait to get started on summertime fun.  We're planning on heading back to Iowa to visit my sister and her hubby June or July time-frame.  I know, such exciting plans to visit Corn Country, eh?  My parents are planning to drive out from Seattle to visit the same time we are – it'll be great to see them and have them spend some quality fun time with Princess Nagger.  It's tough living 3000 miles from them – at least that will be rectified when we move back to the Seattle area in the next couple of years.

That's it for this week – feel free to be a rebel with me and get your random on! Join in the fun – link up!
.

I'm also participating in Follow Me Back Tuesday – if you are a new Follower, please be sure to leave a link so I can follow you back!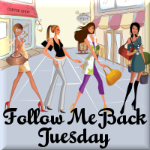 .
Once again I'm hopping aboard this fun friendly train – if you're traveling on the train, be sure to leave your link so I can follow you back!
I'm also joining Hop a Little Tuesday – Blog Hop for Moms: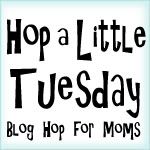 And here's another fun one, Tiggerific Tuesday! Blog Hop…or Bounce!