Ten weeks, people!  Ten weeks since our fearless leader Keely decided she needed a sabbatical from the randomness.  But we're still pressing on.  At least I am, and hope you'll join me.  Jen brought the Spin Cycle back after six months – so maybe Keely will be on that six-month cycle.  Get it?
(Note: Right-click still isn't working on my page, so after you highlight the code, simply CTRL-C to copy. Email me if you're having trouble)
Did you have a nice Memorial Day?  I enjoyed the long weekend, but have been discombobulated because I kept thinking Sunday was Saturday and yesterday was Sunday…so that would make today Monday, but it isn't and that means I had to scramble to make sure I had something ready for today.  So I'm winging it.  Flying by the seat of my pants.  Does that mean my pants have wings?  Something to ponder…
Mother Nature is still whacked – or needs to be whacked.  She's decided that it's already time to send the suffocating heat we normally don't see until August.  I'm not happy with Mother Nature.  Princess Nagger thinks we should move to Alaska so we won't have to deal with the heat, but I told her Seattle will be comparable, since it's been pretty cool there so far this year.  My aunt in Seattle was telling me to 'shut up' about our heat (jokingly, of course) because they're still not quite to 'normal' spring temperatures, and there's actually moss growing between the pitiful plants in her garden since it's been so pitifully cold this spring so far.  Apparently someone has messed with Mother Nature's meds.  I'm just sayin'.
Tomorrow is Princess Nagger's last day of school – if you can call it a day…they only go to school for two hours tomorrow for early dismissal.  Basically it'll be two hours of partying and saying goodbye to their fellow classmates before taking that final trip on the bus home.  Usually school is out a week later, but they didn't have any snow days to make up this year, so they're out early.  Like I said, Mother Nature is whacked.  But at least Princess Nagger's summer break gets to start earlier – that's definitely the upside.
Hubby decided to hang some green plants up in his man-loft:
Sorry for the angle (I decided on a whim to snap a picture trying to get a good shot through the spinning blades of the fan) but at least you can sort of see all three.  We'll see how long they last – and if he remembers to water them.  I probably won't, because I don't crane my head looking up every time I come into the Summer House.  Though he did mention getting some for the first floor, too – maybe that will remind me there are some thirsty plants hanging over my head.
Our hot carpenter friend also had some time a couple of weekends ago to do a little more work on Princess Nagger's dinosaur claw desk – she was so excited the top of it wasn't piled with tools and stuff, that she moved her laptop over from my desk to her own:
Hubby went out and got paint so the hot carpenter friend can finish it up – he found some time this weekend to start with the painting part:
In case you need a reminder on what he's using as a model or muse, here's the dinosaur claw he's emulating:
Hubby picked up some black paint yesterday, so the next time our hot carpenter friend has some spare time, he'll start doing some detailed texturizing.  I'm really looking forward to seeing how it looks when it's all done!  My desk can wait – that way Princess Nagger can crowd up her own desk with her stuff instead of crowding up mine.
That's it for this week – feel free to be a rebel with me and get your random on! Join in the fun – link up!
.
I'm also participating in Follow Me Back Tuesday – if you are a new Follower, please be sure to leave a link so I can follow you back!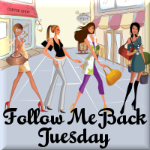 .
Once again I'm hopping aboard this fun friendly train – if you're traveling on the train, be sure to leave your link so I can follow you back!
I'm also joining Hop a Little Tuesday – Blog Hop for Moms: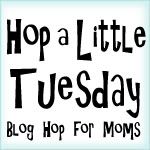 And here's another fun one, Tiggerific Tuesday! Blog Hop…or Bounce!