Hi, my name is Stacy, and I have problem hair.  Well, not so much that it's a problem, just that I have way too much and it tends to have a mind of its own sometimes.  I certainly have enough hair that could easily be distributed between two heads vs. just one, but I'm not complaining…much.  On the one hand I consider my hair to be one of my few best assets – on the other hand, it's my Achilles heel.
Along with being thick, it's also naturally wavy – which is one of the reasons why I wear it long, the weight of my hair helps pull the waviness out so it's easier to flat-iron straight.  Unless it's raining or really humid, then all bets are off.  I had one hairdresser tell me she needed to cut my layers uneven to make them look even, since blonde hair is hard to cut evenly.  Huh? Another hairdresser butchered my hair so badly it looked like I was wearing a bad wig on top of my regular hair; the chopped top layer not progressing smoothly into the bottom layer, more of a sudden drop of about four inches.
Since moving to Pennsylvania 13 years ago, I have tried no less than six different hair dressers, hoping that someone would be able to tame my wild mane.  Until yesterday, no one was really up for the challenge.  Since I've been hesitant to try someone new (again), I haven't had my hair cut since the end of August.  When I had a great hairdresser in Seattle, I'd go in for a trim every 5-6 weeks or so, so the length of almost nine months is truly significant.  Of course that meant that a few inches had to go, but since my hair was long enough to reach my lower back, I was all for losing some of the bulk.
The new hairdresser?  Absolutely perfect.  She took her time, empathized with the thickness of my hair and its many quirks since she has the same exact issues – and same thickness of hair – that I do.  Finally I can go back to my 'normal' routine of getting a regular trim without thinking I might as well stick my head under the lawn mower for the same effect I've had in the past.
Which brings me to this week's question(s):
How often to you get your hair cut or trimmed?  Do you have a fabulous hairdresser you swear by?
Have a great weekend!
Note:  I have to give credit to Princess Nagger for thinking up the title of this post for me.  She's been chortling about it ever since!
Link up if you like – that way I can visit you easily, especially if you're a new follower. You can be participating in any (or none) of the hops listed below – it's a Free-For-All!
.
Happy Aloha Friday!
.
In Hawaii, Aloha Friday is the day that we take it easy and look forward to the weekend. So on Fridays let's take it easy on posting, too. Ask a simple question…nothing that requires a lengthy response. It's a great way to make new blogging friends!
Thursday Two Questions (on Friday!)
I'm honored to be featured this week on Thursday Two Questions!  You should check it out – you might find answers to some of your own burning questions!
Hosted by Self Segacity, It's easy to join Thursday Two Questions Meme. 1) Post your own two questions on your blog, 2) Have a link or badge on your post to Self Sagacity.com
Follow Friday 40 and Over
.
There are a lot of fabulous bloggers who are 40, so I'm participating in Follow Friday 40 and Over – please be sure to leave a link to your blog so I can come check out your site and follow you, too!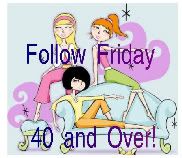 Fun Follow Friday
.
I'm also joining in on "Stalk Hop Friday" hosted by Mrs. Marine and the Tiny Troops, and Novel Bloggers! This one is a little different from the usual, instead of just following on Google Friend Connect (GFC), you can pick and choose which way you want to stalk follow blogs. Be sure to leave a link in your comment so I can follow you back!
Welcome to
"Stalk Hop Friday"!
Blog hops are a great way to gain more followers! This hop follows in EVERY way: Google Friend Connect, Facebook, Twitter, Feed, Blog Frog, Networked Blogs! "Stalk Me" and I will return the favor!
More Friday Follow Fun!