Week eight and still no word from Keely on when she'll be wrestling retrieving the Random Crown back – I think if she's still AWOL next week I'll think of a way to let my cartoon me carry the sign and a giant glass of wine. Then she won't care how heavy the sign is.  Meanwhile, join in the rebellious mode, won't you?
(Note: For some reason right-click isn't working on my page, so when you highlight the code, simply CTRL-C to copy. Email me if you're having trouble)
Did you have a nice weekend?  My fun – doing my bi-monthly grocery shopping on Saturday.  The worst day possible, since half my trip was at Wal*Mart and all the crazies were out on Saturday, along with a severe lack of cashiers for the long lines.  The ones there (or at least the one in the lane I was in) was the worst 'packer' possible.  Looked like I got all my groceries from the scratch'n'dent aisle since she crammed stuff together smashing boxes as she went along.  It's always excessively hot in the store too, no matter what the weather is outside.  As I stood in the terminally long line, my patience was melting right along with my ice cream.
At least Princess Nagger sure had a nice weekend.  She started off Friday night going over to her best friend's house to play – and came home wired up, too excited to sleep because Saturday she was going over to another classmate's house for 7-hour marathon bounce-house fun.  After she got home from all that excitement, the friend whose house she played at on Friday night came over here for a sleepover Saturday night.  Two little tornadoes tearing through the house and wreaking havoc (and mess) in their path.  The dogs chased them merrily while the cats went into hiding.
Mother Nature's off her meds again – she keeps sending sunshine, then without warning (well, unless you keep an eye on the weather online) she'll send a torrential downpour followed by more steamy sunshine.  She can't quite seem to make up her mind.  At least the rain held off during most of the daylight hours over the weekend so Princess Nagger had her fun outside, I didn't get turned into a drowned rat loading and unloading my vehicle, and even got some weeding done over the weekend.
Hubby got the yard mowed just in the nick of time – although when I got back from shopping I teased him about the front and side yards looking they had a bad haircut – he apparently did those sections with the riding mower instead of the push mower, but it started to rain before he could finish up.  So now our yard will have to continue to look funky until the rain stops and it dries out again – which looks like that won't happen until next week.
Speaking of sun/rain/sun/rain moments, yesterday after school Princess Nagger was playing outside with her remote control duck when she exclaimed that it was sprinkling in the sunshine – I looked out and noticed a band of ran moving in, so I told her she better come in before it starts to rain harder.  Mere moments after she came in, this happened:
The irony hit me as I was writing this – she was flying a remote control duck when it started to rain.
At least all the rain is making everything grow like crazy and really green!  And yes, that's a dumpster back there in our driveway – we had that brought in three weeks ago so we could clear out some junk from the barn and Summer House.  They were supposed to come get it last Tuesday – and there it still sits.  Makes for some interesting maneuvering getting in and out of the driveway and parking our cars.  Hopefully they'll come get it today.  Or at least soon.
Have you seen the newest craze – DaGeDar™ (pronounced DAH-geh-DAAR) collectible supercharged battle balls?  Princess Nagger thinks they're the coolest things, and is putting it on her want list:
Random Conversation with Princess Nagger and her Best Friend:
PN:  "My tooth came out the day before St. Patrick's Day.  The Tooth Fairy wasn't able to leave me a golden dollar because my mom said the Leprechauns stole all the Tooth Fairy's golden dollars.  So she only left me a five-dollar bill instead."
BF:  "The Leprechauns stole the Tooth Fairy's golden dollars?"
Me:  "Yes, the Tooth Fairy was very apologetic about it, but she was fresh out of golden dollars because the Leprechauns needed them for St. Patrick's Day."
PN:  "Yeah, crazy isn't it – two legendary people stealing from each other?"
BF:  "Totally crazy."
Me:  "….."
That's it for this week – feel free to be a rebel with me and get your random on! Join in the fun – link up!
.
I'm also participating in Follow Me Back Tuesday – if you are a new Follower, please be sure to leave a link so I can follow you back!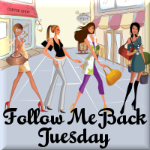 .
Once again I'm hopping aboard this fun friendly train – if you're traveling on the train, be sure to leave your link so I can follow you back!
I'm also joining Hop a Little Tuesday – Blog Hop for Moms: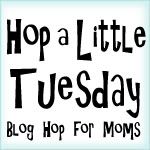 And here's another fun one, Tiggerific Tuesday! Blog Hop…or Bounce!