Are you relieved or disappointed that the world didn't come to an end on Saturday?  Frankly, I'm relieved, because that means we can continue with Week Nine of our random rebellious ways since Keely is still on hiatus from Random Tuesday Thoughts.  But we're still going to random on – because Tuesday's just wouldn't be the same without the ability to dump the random from our brains.  You know, since the world didn't end and the zombies haven't eaten our brains…yet.
(Note: For some reason right-click isn't working on my page, so when you highlight the code, simply CTRL-C to copy. Email me if you're having trouble)
Notice anything different about my cartoon me?  You got it – she's now holding the sign and her coveted (and needed) glass of wine (which I made bigger, you know, because the sign is heavy and she needed extra wine).  Don't worry, those of you who utilized the code and allowed her to travel along with your awesome random posts don't have to do anything – it's already been done for you.  I'm cool like that.  Now that my cartoon me is happy to be doing double-duty with the sign and a glass of wine, let's get on with the randomness, shall we?
Remember when I mentioned a couple of months ago that I entered some of my homemade wine in Winemaker Magazine's annual International Winemaker Competition? I won a Silver Medal! (the exclamation point looks funny in this font)  So now I guess I can officially say that I make 'award winning' wine.  There were 4,235 Total Entries which took 965 Total judging hours.  The entries included all 50 American States, 8 Canadian Provinces and 5 Countries.  Pretty exciting, no?   That encourages me to keep doing what I'm doing, since I must be doing something right, and I'll definitely be entering again next year.  I need to save my pennies so I can actually go to the Winemaker's Conference they hold each year in California – a conference where you get to drink lots and lots of wine?  That would be fun.
Did you hear about the Goldendoodle dog named Dozer that got out of his yard and ran the Half Marathon for Cancer Research last weekend?  He apparently even stopped and drank water at the checkpoints – everyone thought he was part of the race, and someone captured his trek across the finish line on video.  He was awarded a finisher's medal and hopes to compete in next year's race, with permission from his parents. Next time he'll be wearing a bib with a special number just for him – "K9."  You can watch his finish here:
Arby's has finally redeemed themselves!  I mentioned last year that I was sorely disappointed in them for not bringing back their awesome Chicken Salad Wraps like they had promised.  They're baaaaack!  Which means I'll be a happy camper when hubby picks one up for me this evening and I can enjoy this:
I have tried to recreate their chicken salad, but keep missing something, so now I won't have to miss anything.  Thanks, Arby's!
Random Princess Nagger Statement:
PN: "I hate commercials – they slow me down!"
That's it for this week – feel free to be a rebel with me and get your random on! Join in the fun – link up!
.
I'm also participating in Follow Me Back Tuesday – if you are a new Follower, please be sure to leave a link so I can follow you back!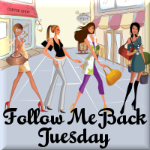 .
Once again I'm hopping aboard this fun friendly train – if you're traveling on the train, be sure to leave your link so I can follow you back!
I'm also joining Hop a Little Tuesday – Blog Hop for Moms: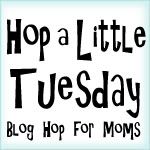 And here's another fun one, Tiggerific Tuesday! Blog Hop…or Bounce!