Looky here, third week running and I'm still a rebel. I'm hoping Keely's hiatus isn't going to last much longer though, because we miss her wit, humor and randomosity.  She might be collecting more blog fodder though, since she got the job she was pining hoping for.   My cartoon me is still impatiently waiting for Keely's return, so she can relinquish her sign and return to the comfort of her wine glass. Join in the rebellious mode, won't you?
Mother Nature is still up to her tricks – after our April Fool's Snow followed by summer heat followed by a very cold wet windy week, she decided to repeat last Monday's summer heat with even hotter temperatures yesterday in the mid-80's.  Someone needs to send Mother Nature a memo about true spring weather.  Shave off ten degrees and I'm a happy camper.
At least the weekend was fairly decent, we bypassed the threats of thunderstorms and were able to get some work done outside as well as on the Summer House. We have this one big tree whose branches hang over where we park our cars – so of course our cars have been subjected to excessive amounts of bird poop now that the birds are back enforce.  We'll be building a carport in the next month or so, but in the meantime our hot carpenter friend offered to climb the tree like a monkey and eliminate the branches that were directly over our cars.   I was a bad blogger and didn't take advantage of the photo op, sorry.
The hubby was awake at 4am on Saturday (crazy, I know!) and decided he'd finish up the first floor floor that he has been sanding off-and-on over the last couple of weeks.  He finished it up Saturday morning and put a coat of poly down, then a final coat that evening.  Turned out great!
Even the dogs seemed happy with it.  Notice my wine cooler's new (temporary) home?  Our hot carpenter friend had to raise the entire top of my new desk-in-progress in order for it to fit:
I say 'temporary' home, because when we get ready to move back to Seattle, that puppy is definitely coming along for the ride.  At least it's not crammed in a corner any more.  You know, easier access and all that.  Plus it's nice to look at – it was a Christmas present from my hubby a couple of years ago.   Cool, no?  The only drawback to raising my desktop is that my chair doesn't get quite high enough, so I feel like a kid sitting at a big and tall desk.  I'll either have to get a different chair, or start sitting on something to boost me higher.  I'm opting for a different chair.
April 2nd was the hubby's birthday – Princess Nagger wanted to take him to see a movie (apparently a birthday tradition that started with her first foray into the movie theater for her 4th birthday).  The movie of her choice was HOP.  She thought it was funny that the bag of baby carrots I bought for the roast I made on Sunday was an advertisement for HOP:
Amazingly enough it made her actually interested in eating them without too much cajoling on my part.  Thanks cute little bunny!
Seeing HOP has also gotten Princess Nagger really excited to decorate Easter eggs this year.  I had mentioned how I used to blow eggs out of their shell so the decorated eggs could be kept forever – should have kept my big mouth shut, now she's anxious to have me blow out some eggs so she can decorate them and keep them forever.  It's been years since I've done that, let's hope I haven't lost my touch.  As a back-up plan, though, I found some already empty (but whole) goose eggs in a decopage kit online, so I ordered it to be here before Easter.  That way if I mess up the hen eggs, we'll at least have a half-dozen goose eggs to make pretty, and we can still do the whole hard-boiled egg decorating mode, too.  I'll keep you posted!
Now that Rolex has discarded his cone of shame, it'll be time for the stray adopted kitty to wear one.  He was dropped off this morning for his snip-snip.  Do they make cats wear the cone of shame?  If so, there will definitely be some hilarity ensuing here over the next few days.  Might need to pick up some more cat nip to really drive him crazy.  I'll be sure to take pictures.  We had to make sure he didn't eat or drink anything after midnight, which meant putting away the dog foot and water, too.  I even put the fish bowl in the oven overnight – just in case there was some desperation mode happening while we slept.
That's it for this week – feel free to be a rebel with me and get your random on! Join in the fun – link up!  We had an internet outage in the middle of the week last week with some wickedly wild storms – so my apologies to those that linked up that I haven't gotten around to yet.  But I will. When you least expect it.
.
I'm also participating in Follow Me Back Tuesday – if you are a new Follower, please be sure to leave a link so I can follow you back!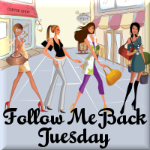 .
Once again I'm hopping aboard this fun friendly train – if you're traveling on the train, be sure to leave your link so I can follow you back!