Happy Earth Day and Good Friday for those that celebrate!  I have the honor and privilege to participate in a special Be Kind To Earth Day celebration with TheMotherhood.
The Mission: To encourage people to promise to do at least one earth-friendly action on April 22, 2011 — and beyond.
The Overview:  Make Earth Day count for you and your family this year!!   In all fifty states on Earth Day, families will get outside, appreciate our planet and do good things for the Earth – and their collective actions are going to count, big time. B Kind 2 Earth Day is a project of Nickelodeon, the National Wildlife Federation, TheMotherhood.com and incredible bloggers and organizations across the country.
Princess Nagger and I have great plans for today – along with our annual tradition of planting a new tree, we'll be creating and decorating a compost bin.  That way we can have the convenience of composting on our back porch – which means we'll probably be better about putting things in the compost pile instead of in the trash, since we won't have to haul it out to the Back 40.  I found a great tutorial on Kaboose on decorating a simple compost bin, so we'll be making our own version of this:
Of course ours will probably be decorated with dinosaurs and dragons.  If you click on that image, it will take you directly to the tutorial in case you want to do that project yourself.  I'll be sure to post pictures of the finished product – it will definitely be a 'must see' with Princess Nagger's creativity.
Which brings me to this week's question(s):
Do you do anything special to commemorate Earth Day like plant a tree?  How do you green it up?
Have a great weekend!

Link up if you like – that way I can visit you easily, especially if you're a new follower. You can be participating in any (or none) of the hops listed below – it's a Free-For-All!
.
Happy Aloha Friday!
.
In Hawaii, Aloha Friday is the day that we take it easy and look forward to the weekend. So on Fridays let's take it easy on posting, too. Ask a simple question…nothing that requires a lengthy response. It's a great way to make new blogging friends!
Follow Friday 40 and Over
.
There are a lot of fabulous bloggers who are 40, so I'm participating in Follow Friday 40 and Over – please be sure to leave a link to your blog so I can come check out your site and follow you, too!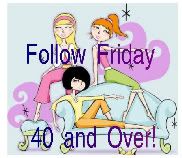 .
I'm also joining in on "Stalk Hop Friday" hosted by Mrs. Marine and the Tiny Troops, Novel Bloggers, Two Peas in a Pie, and Aspergian Tales! This one is a little different from the usual, instead of just following on Google Friend Connect (GFC), you can pick and choose which way you want to stalk follow blogs. Be sure to leave a link in your comment so I can follow you back!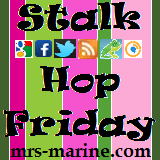 Welcome to
"Stalk Hop Friday"!
Blog hops are a great way to gain more followers! This hop follows in EVERY way: Google Friend Connect, Facebook, Twitter, Feed, Blog Frog, Networked Blogs! "Stalk Me" and I will return the favor!
Thursday Two Questions (on Friday!)
.
Hosted by Self Segacity, It's easy to join Thursday Two Questions Meme. 1) Post your own two questions on your blog, 2) Have a link or badge on your post to Self Sagacity.com
More Friday Follow Fun!