I called in sick last week to RTT.  Well, not literally, but I was AWOL.  You'll be happy to know that I finally saw a medical professional yesterday and got a stern talking to about waiting so long to see a medical professional about the plague I've been suffering with for well over two weeks.  I took it like a girl and got my antibiotics, so the pounding headache, hacking cough and my nose running away with the spoon should pretty much be dissipating in a matter of days.  Usually I feel human again after I've been on the antibiotics for three days.  So by Thursday I should have morphed from 'sicker than a dog' to 'right as rain' – not quite 'healthy as a horse'.  I'm still wondering where those phrases really came from.
Luckily Princess Nagger's feverish mode disappeared, and she went to school yesterday.  I'm keeping my fingers crossed that she doesn't get as sick as I've been because I've been a horrible patient and of course she's a mini me.  That, and she has a really cool field trip she's looking forward tomorrow.  Don't want her to miss out on that – she gets to learn all about making maple syrup and getting to give it a try herself.  Those of you who have watched PBS with your kids will probably immediately remember the episode of Caillou and his maple syrup field trip.  Or not.
Because I've been more than under the weather, I had a huge Blonde Moment last week.  After dragging myself off to do the bi-monthly grocery shopping (and probably effectively infecting the shopping carts I used for the next unsuspecting victim), when I got home and unloaded all the groceries then parked my Santa Fe, I apparently left the sun roof wide open.  Of course the Absent Minded Professor hubby didn't notice it Wednesday, Thursday or Friday when he parked his vehicle right next to mine.  And it rained a little bit Friday night.  Then rained a lot Sunday.  Lots and lots of rain falling from the sky all day.  Followed by sleet and snow.
You know where this is going, don't you?
Monday morning hubby came downstairs as I was packing a lunch for the Princess Nagger and asked if I had left the sun roof open on the Santa Fe.  Which made me realize that yes, I did – for the past five freakin' days! As soon as Princess Nagger's lunch was hastily packed, I grabbed a couple of towels and raced out to see how bad it was.  It was bad.  And I was a bad blogger because I didn't grab my camera and take a picture.  It would have been a cool picture, too.  The snow and ice inside the vehicle was sparkling brightly in the morning sunlight.  But here it is after hubby helped me get all the ice and snow off and soaked up all the water (and thawed out the interior enough so the sun roof could be closed against any future weather):
Luckily there's a wind guard thingy at the front, so the actual opening isn't really that huge:
But the head rests and the seats were layered with snow and ice, and the center console cup holders had about a half-inch of water in them.  I'm just glad the previous owner had the seats treated with some professional protectant so the leather pretty much resisted the soaking that could have happened with the amount of rain the fell.  There's also rubber floor mats that cover almost all of the carpeted areas, so I was able to carefully remove them and dump the ice and water off of them without it having soaked into the carpets.   I left the doors open all day to air it out, and will do so for the next few days (on the days we're supposed to have sunshine) and hope for the best.  Foggy brain or not, you can bet there will not be a repeat performance of that Blonde Moment!
Some of you know I make my own wine.  I have been contemplating entering the International WineMaker Competition, but I always forget when the deadline is and remember when it's too late.  I almost forgot about the deadline again this year, but realized it was last Friday.  Even in my foggy state I actually sent in a couple of bottles that arrived just in the nick of time!  Wish me luck – they won't be doing the wine tasting until April, and won't be announcing the winners until May.  So now I'm in hurry-up-and-wait mode.   I'll keep you posted.
I found out last week that I have a Psycho Blog Stalker.  I know who she is.  She's an ex-friend who also happens to be the soon-to-be-ex-wife of our hot carpenter friend who's helping us out with our Summer House renovation.  Apparently she's been downloading and printing my pictures from my blog that I've posted of his awesome work, trying to use them as ammunition against him to increase the already exorbitant amount of child support she's already soaking him for (because she gave bogus employment info to the courts).
She printed out the posts and pictures with some story to the court about that he should/could/would be making big bucks with his handiwork (or that he's making big bucks with this renovation) and she deserves even more money than she's currently getting.  We're not paying him.  He's the nicest guy on the face of the planet and is doing all the work for free.  He's using our tools and we're supplying all the materials.  My blog posts and pictures are copyrighted – maybe Psycho should get a pair of glasses from her place of employment.
Speaking of the renovation, I've been too sick to take new pictures of the progress (sorry, Crusty, no new pictures for you to steal) but hopefully by this time next week you'll be prepared to be amazed (not you, Crusty, they're for my real friends).  Stay tuned!
That's enough for this week – my brain is still foggy and the little guy in my head is still pounding away on my brain so I'm obviously a tad bit on the cranky side.  But I'll be better soon.  I've got antibiotics to make sure of that!
Now it's time to head over to The Un-Mom – the queen of randomness, who's apparently starting to grow a cool skunk stripe.  Feel free to get your random on and join in the fun!
.

Go forth and be Random!
.
I'm also participating in Follow Me Back Tuesday – if you are a new Follower, please be sure to leave a link so I can follow you back!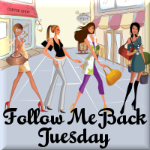 .
Once again I'm hopping aboard this fun friendly train – if you're traveling on the train, be sure to leave your link so I can follow you back!