Monday I got hit with a major sinus infection/flu bug combo.  I pretty much slept the day away on Tuesday, a rarity for me and usually a sure sign that I'm actually sicker than a dog.  Which, by the way, begs the question – how did that term 'sicker than a dog' come into play?  And the other term 'healthy as a horse' – are horses healthier than dogs?  Makes you wonder.
But I digress.
After sleeping the day away and feeling slightly better to where I could sort of squint at my too-bright computer screen and going over my list for my bi-monthly grocery shopping trip on Wednesday (that I was debating on putting off another day because of not feeling well), a headline on MSN caught my eye about shopping carts.  I always knew that shopping carts were rife with germs, but a signs of E. Coli found on 50-percent of shopping carts?   Scary.
When Princess Nagger was small enough to actually ride in the carts, I was semi-religious about bringing disinfectant wipes to wipe down the handles and seat to hopefully deter her from getting attacked by foreign germs.  I didn't do that 100% of the time (since remembering to bring the wipes with me into the store was hit-and-miss at best).  Of the times I did forget, you could guarantee that two weeks later one or both of us would catch a cold.  Pretty much par for the course, since cold germs pretty much take two weeks to 'incubate'.  Luckily I remembered more than I forgot about bringing wipes with me to keep the recurring cold mode down to a minimum.
Now that she's in school and I get to do my marathon shopping solo (until summer where I'll have to make sure I plan for an extra hour for her to peruse the toy section just for fun), I've been terrible at remembering to bring wipes to wipe down the handles of the cart to protect me.   When I did my bi-monthly grocery shopping two weeks earlier, I cringed when I noticed that the handle of the cart I had grabbed was sticky.  Gross.  Yet I forgot to put wipes in my car, and then forgot all about the stickiness once the shopping trip was done.  So when I got sick on Monday, I knew I pretty much did myself in.
I won't be forgetting my disinfectant wipes in the future, you can bet on it.  I hate being sick, especially when I have foggy brain syndrome and am even more of a klutz than normal.  I don't need that exacerbated by the foggy brain syndrome.  So my question for you this week is:
Do you wipe down shopping cart handles when you shop?
Have a great weekend!

.
Happy Aloha Friday!
.
In Hawaii, Aloha Friday is the day that we take it easy and look forward to the weekend. So on Fridays let's take it easy on posting, too. Ask a simple question…nothing that requires a lengthy response. It's a great way to make new blogging friends!
Follow Friday 40 and Over
.
There are a lot of fabulous bloggers who are 40, so I'm participating in Follow Friday 40 and Over – please be sure to leave a link to your blog so I can come check out your site and follow you, too!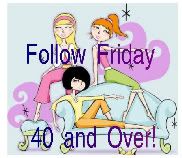 .
I'm also joining in on "Stalk Hop Friday" hosted by Mrs. Marine and the Tiny Troops, Novel Bloggers, Two Peas in a Pie, and Aspergian Tales! This one is a little different from the usual, instead of just following on Google Friend Connect (GFC), you can pick and choose which way you want to stalk follow blogs. Be sure to leave a link in your comment so I can follow you back!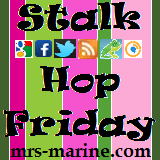 Welcome to
"Stalk Hop Friday"!
Blog hops are a great way to gain more followers! This hop follows in EVERY way: Google Friend Connect, Facebook, Twitter, Feed, Blog Frog, Networked Blogs! "Stalk Me" and I will return the favor!
More Friday Follow Fun!