I'm a rebel.  Even though Keely is taking a hiatus from hosting Random Tuesday Thoughts, I'm carrying the torch.  Just because.  Or, in this case, a sign of the fugly button.  Here's hoping she'll have just a short hiatus and take the torch/sign back, because the cartoon me is complaining that it's heavy to carry, and she wants her wine glass back.
You know you're a winemaker when your day is totally made with the delivery of these little doohickeys:
What are they?  I'm glad you asked!  They're called a 'bidule'.   Still don't understand?  Well, they are going to make my life easier when it comes time to do the dégorgement of the champagne I'm making.  When I'm doing the riddling stage, the bottles will be upside down to allow the yeast sediment to collect in the neck of the bottle.  These little bad boys will help collect the sediment, so when it's time to dégorge, when I remove the crown cap this will shoot out with most, if not all, of the sediment attached to it.  That will make the dégorgement a little easier – and hopefully a little less messy.  Here's one in one of the bottles as I bottled the champagne for their next step:
Perfect fit!  Then I added a crown cap:
I bought a special crown capper to make sure the seal is tight.  I now have 30 bottles of champagne-to-be resting comfortably on their sides for the next two months.  Then it'll be another month of riddling before I can get to the really fun part of shooting the bidules out of the neck, topping the champagne off with the dosage I'm working on, and corking them with real champagne corks and wires.  I'll be recording that step on video because it might end up being funny, if not interesting.
I received this box in the mail yesterday:
Nice to know the post office takes such great care of packages.  Good thing there wasn't anything fragile inside.
Speaking of fragile things, I had to go pick up a few things at the store last week, including a wicker basket and a dozen eggs.  Since the cashier didn't want to put the eggs (or the wicker basket) in the same singular recycled bag with the other non-fragile stuff, she asked if it was OK to put the eggs in the basket to carry out that way – I was fine with that, and had to take a picture when I got home:
Because before I left, I jokingly held it up and said "I've apparently got all my eggs in one basket!"  I swear there were crickets chirping.
Our hot carpenter friend got creative and built me shelves for my new desk:
Aren't they cool?  Now to figure out what to put on them.  We're still deciding on what we want to do for the desktop itself – I'm looking forward to everything being finished!
Hubby's Man-Loft Studio is almost complete:
Hubby sanded and varnished the floor – isn't it beautiful?  He also decided on using a low-pile carpeting for the top of his desk – that way he doesn't have to worry about scratching guitars he might happen to be working on.  Genius, no?  There's just one small section left to add sheet rock to, then he'll be ready to paint. He decided on a parchment-type color, which will compliment the Vino color I've chosen for the downstairs.  Trimming is being done in a cool green color that is almost exactly like the original color of some of the areas from way back when.  Excitement is running high as we get closer to completion!
Random picture of the Dork Dogs:
Random Conversation with
Princess Nagger:
PN:  "Keep an eye out on the mail, I'm getting an invitation to JR's birthday party."
Me:  "OK, cool – did she tell you you're getting invited?"
PN:  "Of course! She's inviting all her friends.  She can't bring the invitations to school, though, because of the rule, so she mailed them out."
Me:  "Excellent – I bet you're excited!"
PN:  "I am!!  There's going to be a bounce house! I'm probably going to bounce for hours! Oh, and there's going to be games – probably Mouse Trap, even UNO!  It's going to be the best party ever!  Oh, and we get to chase boys!!"
Me:  "Um…really?"
PN:  "Yeah, and one of 'em is 12 years old!"
Me:  "Is it her big brother?"
PN:  "I don't know, I think it's just some random guy!"
Me:  "……"
That's enough for this week!  Feel free to be a rebel with me and get your random on and join in the fun – link up!
.
I'm also participating in Follow Me Back Tuesday – if you are a new Follower, please be sure to leave a link so I can follow you back!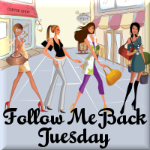 .
Once again I'm hopping aboard this fun friendly train – if you're traveling on the train, be sure to leave your link so I can follow you back!