Last week Princess Nagger's class started their annual 8 days of Swimming.   It started as just a few days in Kindergarten, then ramped up to eight days starting last year in First Grade.  I posted a conversation I had with Princess Nagger last year around this time, when she was feigning being sick because she really didn't want to have to go swimming the next day.  She was trying to pull that same trick this year, because she was scared.  Even though she took to the water like a duck when she was younger in our own pool:
Turns out, her fear is mostly because she's not allowed to wear floaties, or a getup like this:
She reluctantly went on the first day of swimming last Friday – even though she kept insisting she's been sick since January.  But declined a call and trip to the doctor's office.  Go figure.  She survived, of course, and was reluctant yet again to go swimming Monday and Tuesday.  She has swimming again tomorrow (yay for Day 4…halfway there!) and now she's not so afraid of going.  Why?  Because one of her classmates wears a Speedo.
Apparently, when she donned her goggles and went underwater, she saw the Speedo emblem emblazoned one another little girl's swimsuit – which caused her to burst out laughing…while under water.
PN:  "I'm sure I set a world record laughing under water, but I couldn't help myself – Joy is wearing a Speedo!!!"
She now credits Joy with making swimming fun.  Who would have thought?  She found Joy in swimming.  Get it?
Prior to the first day of swimming I needed to buy her some new swimsuits.  It's probably the only time I was glad the stores rotate their seasonal stock early, since she's outgrown her suits from last year.   Since some days she'll have swimming three days in a row, I wanted to get her at least two new suits, if not three (you know, so I didn't have to rinse or wash them and hope they're dry enough the next morning).  I found her three cute tankini's (I'm resistant at getting her bikinis at this age), and wanted the convenience of a 2-piece in case she chose to wear it under her school clothes like they're allowed to do.
Since she's so petite for her age, only one of the 7/8's I got sort of fit – the bottoms are a bit loose.  The other two were definitely too big.  She's too tall for 6 or 6x, and too skinny for 7/8's.  This weekend I'll be taking her along when I do an exchange so she can actually try some different styles on.  At least that sort of bathing suit shopping I don't mind.  Forget about bathing suit shopping for myself.  That would be a scary prospect.
Which brings me to my question(s) for this week:
Do you go bathing suit shopping every year for yourself, or do you wear the same suit that (hopefully) still fits?  Do you prefer one piece or two?
Have a great weekend!

Happy Aloha Friday!
.
In Hawaii, Aloha Friday is the day that we take it easy and look forward to the weekend. So on Fridays let's take it easy on posting, too. Ask a simple question…nothing that requires a lengthy response. It's a great way to make new blogging friends!
Follow Friday 40 and Over
.
There are a lot of fabulous bloggers who are 40, so I'm participating in Follow Friday 40 and Over – please be sure to leave a link to your blog so I can come check out your site and follow you, too!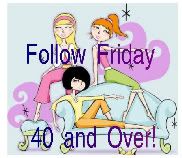 Fun Follow Friday
.
I'm also joining in on "Stalk Hop Friday" hosted by Mrs. Marine and the Tiny Troops, Novel Bloggers, Two Peas in a Pie, and Aspergian Tales! This one is a little different from the usual, instead of just following on Google Friend Connect (GFC), you can pick and choose which way you want to stalk follow blogs. Be sure to leave a link in your comment so I can follow you back!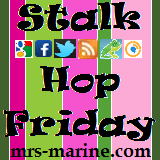 Welcome to
"Stalk Hop Friday"!
Blog hops are a great way to gain more followers! This hop follows in EVERY way: Google Friend Connect, Facebook, Twitter, Feed, Blog Frog, Networked Blogs! "Stalk Me" and I will return the favor!
Thursday Two Questions (on Friday!)
.
Hosted by Self Segacity, It's easy to join Thursday Two Questions Meme. 1) Post your own two questions on your blog, 2) Have a link or badge on your post to Self Sagacity.com
More Friday Follow Fun!