Happy Aloha Friday!
In Hawaii, Aloha Friday is the day that we take it easy and look forward to the weekend. So on Fridays let's take it easy on posting, too. Ask a simple question…nothing that requires a lengthy response. It's a great way to make new blogging friends!
.
It's been a crazy busy week so I'm going to keep this short and sweet this week (I'm hearing a collective sigh of relief…)  With all the work we've been doing renovating the Summer House into cool office space for ourselves, my question for you this week is:
Where do you blog?
Do you have a home office?  Do you sit at a desktop or use a laptop?  Before we started our little project, I would alternate between bringing my laptop into the house and blogging from the couch (would that be a blog potato?).  A majority of the time I'd sit at a table smushed in the corner in our makeshift office space in the Summer House.  Especially if I was working on web or graphic design, so I'd have my auxiliary monitor to use and multitask.  Where do you blog?

Have a great weekend!

.
Follow Friday 40 and Over
.
There are a lot of fabulous bloggers who are 40, so I'm participating in Follow Friday 40 and Over – please be sure to leave a link to your blog so I can come check out your site and follow you, too!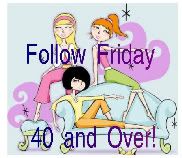 Fun Follow Friday
.
I'm also playing along with Fun Follow Friday hosted by Simply Stacie and My Wee View. The goal of this hop is to get new Google Friend Connect Followers for your blog and be introduced to new blogs to follow. Be sure to leave a link when you follow so I can follow you back! Have a great weekend!