Happy Aloha Friday!
In Hawaii, Aloha Friday is the day that we take it easy and look forward to the weekend. So on Fridays let's take it easy on posting, too. Ask a simple question…nothing that requires a lengthy response. It's a great way to make new blogging friends!
It's the final Friday before Valentine's Day.  Last year I wrote a post "Valentine Schmalentine" for the Spin Cycle (oh how I miss the Spin Cycle!) on my views of the Hallmark Holiday known as Valentine's Day.   Since I'm a romantic at heart, I love Valentine's Day.    I've had to learn to compromise, however, since the hubby's not really romantic and is not one to make a big deal out of holidays.  Except birthdays.  He says that's the one day that needs to be the most special, since it's the most special day.  Which means I need to step up my game for his birthday in April.
Princess Nagger has inherited the romantic gene from me – she loves Valentine's Day, had a great time writing out dinosaur Valentine's Day cards for her classmates and teachers, and can't wait until she gets her pile'o'Valentine's on Monday.   Over the years hubby has learned to compromise and embrace his romantic side and 'give in', as it were, with us two romantic girls.  We still don't make it a big deal – usually I'll cook a special dinner, or we'll order from our favorite restaurant for hubby to pick up and we eat in, and we do exchange gifts and cards to commemorate the day.
Since Valentine's Day is on Monday this year, we haven't decided if we're going to do our special dinner over the weekend, or on Monday – we're leaving that decision to the Princess Nagger, since making a big deal out of it is more important to her, and she's most important to us.
My question for you this week is:
What are your plans for Valentine's Day?
Do make a big deal and go all out?  Go out to dinner or have dinner at home?

Have a great weekend!

.
Follow Friday 40 and Over
.
There are a lot of fabulous bloggers who are 40, so I'm participating in Follow Friday 40 and Over – please be sure to leave a link to your blog so I can come check out your site and follow you, too!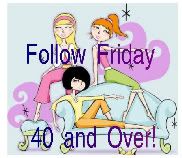 Fun Follow Friday
.
I'm also playing along with Fun Follow Friday hosted by Simply Stacie and My Wee View. The goal of this hop is to get new Google Friend Connect Followers for your blog and be introduced to new blogs to follow. Be sure to leave a link when you follow so I can follow you back! Have a great weekend!
I'm also joining in on "Stalk Hop Friday" hosted by Mrs. Marine and the Tiny Troops, Novel Bloggers, Two Peas in a Pie, and Aspergian Tales! This one is a little different from the usual, instead of just following on Google Friend Connect (GFC), each week the "Follow Theme" will rotate – this week it's GFC and Networked Blogs.  Be sure to leave a link in your comment so I can follow you back!