Here we are, the day after the Hallmark Holiday of Valentine's Day.  Did you have a nice one?   I sure did.  Hubby and I agreed not to do anything 'big', since we want to save the 'big' for birthdays and our anniversary.   We did order dinner from our favorite family-owned Italian restaurant (I absolutely love their Chicken Marsala!) and Princess Nagger was too excited to wait until yesterday to get her Valentine's gift from us, so we compromised and gave her the little fun stuff of candies and little toys on Sunday, then saved her 'big' gift for the actual day of Valentine's Day.
At least it was 'big' in her mind – she'd been wanting the Rescue Pet Train and Play Puppy, and when I saw it on sale a couple of weeks ago, I knew it'd be perfect for her Valentine.  I haven't taken pictures of her playing with it (yet), but this is what it looks like:
Isn't it cute?  What's funny is it will walk around and bark – which makes our real dogs bark.  After a while not so much funny.  But she's having fun with it, especially since you 'feed' it the dog bone treat, which it will later poop out.  No joke. Someone had a lot of time on their hands designing this toy.
Even though the hubby and I agreed to not doing anything 'big' for each other, I walked into the Summer House to see a new office chair waiting for me:
He had gotten me a new office chair a few years ago for Valentine's Day (and learned then that a chair is not considered a romantic gift, which we've joked about since) but it turned out to be not a very good chair.   The hydraulics had always been messed up on it – which means I was constantly having to adjust the chair back up or sit at my desk too low and feel like a little kid.
Since I really did need a new office chair, he decided to get me a new one for this Valentine's Day, only added to that a new Citizen's Eco Drive watch since mine was beginning to lose track of time.   I haven't taken a picture of that (yet), but trust me when I tell you it's beautiful.   The joke's on me since all I got him was a ton of chocolate and a cheesy cute little skunk stuffed animal (private joke between us that goes back years) because we agreed to not do 'big'.  Guess I'll have to make up for it on his birthday in April instead.
Our schedules have been really busy, so we've only made a little bit of progress with our Summer House renovation, but what we did get done sure makes a difference.  Here are pictures of the attic-turned-into-a-loft stairs before:
They were painted with gray-ish blue paint (probably the same paint used on the exterior of the house originally), and there used to be a door at the bottom of the steps to keep it closed off from the first floor.  We removed the door, then hubby got to work sanding the steps and the walls, then painting the back risers with the green he picked out for his lofty music studio, and coated the steps and walls themselves with clear varnish.  Here's what they look like now:
(they already look scuffed in the pictures, but that's actually dust we tracked up the steps after the varnish was dry.  Ooops.  I'll take new pictures after the dust has settled.  Get it?)
Here's a shot looking down the steps from above:

Huge difference, isn't it?  They look way more 'inviting' than they used to, and it also gives us an idea of how the interior of the Summer House will look when we finish it, the almost 200-year old wood is absolutely stunning.
Princess Nagger has decided on what design she'd like her custom desk to be.  A dinosaur claw.  Yep, you read that right – she wants a desk in the shape of a dinosaur claw.  Her inspiration is the dinosaur claw she got when we were visiting the Philadelphia Dinosaur Museum for her birthday:
This will give you a better perspective on the size of the claw:

Our genius carpenter friend said he'll be able to build a desk like that – he might even have a chance to get to it this weekend since the weather is finally cooperating.  I can't wait to see how it turns out.
Speaking of the Dinosaur Museum – apparently they're having a 'Paleopalooza' this weekend, so we're definitely going to go.  Princess Nagger is super excited to not only have a chance to talk to some Paleontologists she's seen on National Geographic, but she'll even get to meet Dr. Scott Sampson, the Paleontologist on Dinosaur Train, along with Buddy the T-Rex:
I'll be sure to take lots of pictures and share them next week.
I had a ton more randomness to share, but I think I'll save them for later.  I've been rambling on enough – time to head over to  The Un-Mom – who puts my randomness to shame every week. Feel free to get your random on and join in the fun!
.

Go forth and be Random!
.
I'm also participating in Follow Me Back Tuesday – if you are a new Follower, please be sure to leave a link so I can follow you back!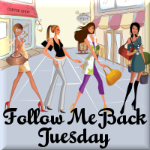 .
Once again I'm hopping aboard this fun friendly train – if you're traveling on the train, be sure to leave your link so I can follow you back!