It's the first day of February – the Month of Love.  Except where Mother Nature is concerned, apparently.  She's starting off our new month with a vengeance of snow and freezing rain.  More on that later.  At least last week she did send us the snow we wanted – you know, to cover the drab brownish-gray of winter with something sparkling and white.  She'd been teasing us with 'possible' snow, only to bypass us and send it elsewhere.   This time she sent us a good 8-inches of the good fluffy variety last Wednesday night, so Princess Nagger was thrilled she was able to finally have a Snow Day.

I took those pictures Thursday morning before getting to work shoveling the sidewalks around the house – since we were too busy shoveling the driveway the night before – as it was snowing.  By the time we were done, I had a good inch of snow piled on top of my hat and in my hair.  I had to shake it off like a dog so I wouldn't drip on my keyboard.  Poor hubby was stressed about the fact that a few more inches fell overnight, which meant the driveway was undrivable again.  Luckily he spotted the neighbor's dad out in his truck with the snow plow attachment – and he had our driveway plowed out in about 5-minutes.
Since our colds are still hanging on for dear life, Princess Nagger didn't get to spend much time playing in the snow, but Saturday morning did start to create her Ice Age Dinosaur scene she wants to make a video of.  I took this picture yesterday before hauling them all in the house:
I asked her why they all look like dead dinosaurs – and she said they would each be waking up in their Ice Age mode and having an adventure.  She wouldn't tell me any more than that, she said it's going to be a surprise when we do the video.
I had to take them in yesterday, because I didn't want them to end up buried in a true Ice Age moment with the snow, sleet and freezing rain those that are they are calling whomever they call for this next round.   Which is/was scheduled for Monday night through Tuesday into Wednesday morning.  Since I'm typing this last night (Monday), it will be interesting to see what we wake up to this morning and I might have to add a paragraph to let you know what the status is.  Provided, of course, we have internet and/or power.
I'd much rather it be snow instead of sleet an freezing rain – snow is so much prettier.  And much easier to shovel.  Or walk in.  Mostly.
After Princess Nagger's abbreviated playfulness in the snow, she went in the house to warm up and I found her sound asleep on the couch all wrapped up in the Snuggie the hubby got me for Christmas:
That would make Kristina P. proud – since she's Queen of the Snuggie.  Princess Nagger says she's jealous of my Snuggie – because she wants one, and her favorite color is purple.  She has Snuggie Envy.  If anyone knows where you can get the kid-sized version, let me know – Princess Nagger would love to have one in 'her size'.
The arrival of snow thwarted our plans for getting a little further on our Summer House renovation, since the barn doors had snow piled in front of them, and that's where the wood and drywall are stashed.  But Sunday we worked feverishly on the one wall where my desk will be put, running all the wiring for the outlets we added, hanging drywall and hanging my flat panel:
Tomorrow I'll post more pictures of what we did get done this weekend – my custom desk is shaping up to be the most awesome desk ever.   This weekend we'll be finishing up the drywall throughout, then we can mud, sand and get ready to paint.  Oh, and I thought  I'd better clarify – the Summer House isn't a full-on house (though it could be a house – just a tiny one).  In this part of the country that's what they call what used to be the Summer Kitchen, since the house and Summer Kitchen (and barn) were all built in 1817, before they had indoor plumbing and kitchens and electricity.
In order to keep the house cool in the summertime, cooking was done in the walk-in fireplace in the Summer Kitchen.  I'm pretty sure they had servants that lived in the Summer Kitchen, it's big enough not only for cooking lots of feasts, but the upstairs was probably the sleeping quarters.  Other people might refer to it simply as an 'outbuilding'.  It's not a house we spend our summers, though we do hang out in it year-round since it's where we have our computers set up, so we do actually spend our summers in it, too.  How's that for clarifying but not really?

That's it for this week – well, unless I wake up to some wild weather and decide to add an addendum.  Meanwhile, don't forget to head over to The Un-Mom – who's always entertaining with her randomness. Feel free to get your random on and join in the fun!
.
Go forth and be Random!
.
I'm also participating in Follow Me Back Tuesday – if you are a new Follower, please be sure to leave a link so I can follow you back!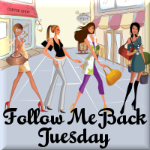 .
Once again I'm hopping aboard this fun friendly train – if you're traveling on the train, be sure to leave your link so I can follow you back!