Happy Aloha Friday!
In Hawaii, Aloha Friday is the day that we take it easy and look forward to the weekend. So on Fridays let's take it easy on posting, too. Ask a simple question…nothing that requires a lengthy response. It's a great way to make new blogging friends!
Isn't amazing that we're already more than halfway through the month of February?  I don't know about you, but it seems that time flies by faster every day.  Still looking for that pause button – if you find it, let me know.
As I was heading off to do my bi-monthly grocery shopping yesterday, I was running through my checklist to make sure I didn't forget anything (you know, like the grocery list, since shopping on the fly usually warrants forgetting something important).  One of the other things I make sure I remember are my reusable shopping bags.
I didn't always remember to bring my reusable bags – which then caused purchase of new ones whilst shopping, resulting in a major stockpile of reusable bags.  Sort of like forgetting to bring coupons – which I tend to do more often than not.  Or I bring them, and forget to use them at checkout.
I love the bags I've gotten, especially the insulated ones that are nice and roomy and boxy with a zipper closure at the top.  I like the 'boxy' ones because they tend to pack better, and won't slide around in the back of the vehicle.  I like the look of the Target ones:
Cute, right?  But so inefficient.  They aren't boxy, they taper to a single seam at the bottom, which prohibits packing very much into the bag, let alone it won't stand on its own filled.  So I don't use them. Even though I bought two of them.
Some cashier's tend to have an attitude when you present your reusable bags for usage (hello, Wal*Mart) but for the most part they've gotten used to the trend of reusable bags.  My question for you this week is:
Paper, Plastic or Reusable?
Do you have your own stash of reusable bags?  Any that are your all-time favorites?

Have a great weekend!

.
Follow Friday 40 and Over
.
There are a lot of fabulous bloggers who are 40, so I'm participating in Follow Friday 40 and Over – please be sure to leave a link to your blog so I can come check out your site and follow you, too!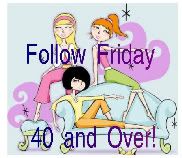 Fun Follow Friday
.
I'm also playing along with Fun Follow Friday hosted by Simply Stacie and My Wee View. The goal of this hop is to get new Google Friend Connect Followers for your blog and be introduced to new blogs to follow. Be sure to leave a link when you follow so I can follow you back! Have a great weekend!
I'm also joining in on "Stalk Hop Friday" hosted by Mrs. Marine and the Tiny Troops, Novel Bloggers, Two Peas in a Pie, and Aspergian Tales! This one is a little different from the usual, instead of just following on Google Friend Connect (GFC), each week the "Follow Theme" will rotate – this week it's Feed Subscribe & GFC Follow.   Be sure to leave a link in your comment so I can follow you back!