Happy Aloha Friday!
In Hawaii, Aloha Friday is the day that we take it easy and look forward to the weekend. So on Fridays let's take it easy on posting, too. Ask a simple question…nothing that requires a lengthy response. It's a great way to make new blogging friends!
.
Next weekend is the Super Bowl.  When I was living in Seattle, my brother and I would alternate who would host the big Super Bowl party each year.  It was a great excuse to have a big party, complete with lots of food and beverages of all kinds, but mostly to have all our friends and family gathered in one location for some riotous fun.   After moving to Pennsylvania, since the hubby isn't a sports fanatic and all my friends and family were thousands of miles away, that annual event has been missed, big time.
Since we have plans to move back to Washington State in the next year or two, hubby will finally get to see all the fun he's missed.  Maybe he'll even be converted into somewhat of a sports fan to a degree.  At least I never have to worry about being a Sports Widow.
So my question for you this week is:
Do you host or go to an annual Super Bowl Party, and if so, what's the plan for this year?
Have a great weekend!

.
Follow Friday 40 and Over
.
There are a lot of fabulous bloggers who are 40, so I'm participating in Follow Friday 40 and Over – please be sure to leave a link to your blog so I can come check out your site and follow you, too!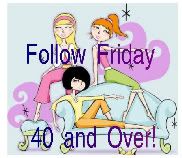 Fun Follow Friday
.
I'm also playing along with Fun Follow Friday hosted by Simply Stacie and My Wee View. The goal of this hop is to get new Google Friend Connect Followers for your blog and be introduced to new blogs to follow. Be sure to leave a link when you follow so I can follow you back! Have a great weekend!